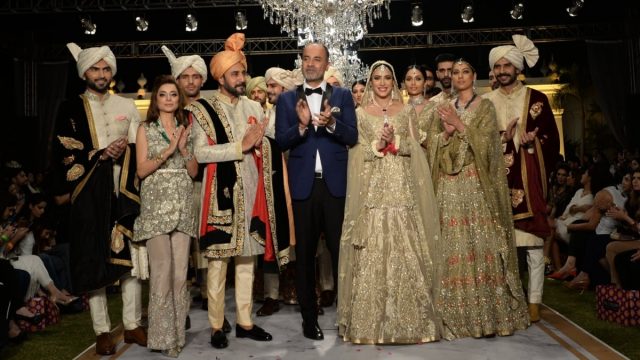 "It's been 24 years [to my brand]," Deepak Perwani had told me a few months ago, "and I'd like to celebrate this."
He just did so with a solo show wrapping up the 'Winter Festive' edition of Fashion Pakistan Week (FPW), at a private venue following the two-day schedule of group shows.
A broad white catwalk with pillars in the backdrop was laid out, shining underneath crystal chandeliers, flanked by white benches that bore the names of Karachi's most famous, most fashionable. There were tasteful lights and florals strewn about, not overwhelmingly so but just enough to exude classy minimalism. Those are words that I have often used to describe Deepak Perwani's work when it is at its best.
This was his way of celebrating and to me, it almost seemed as if he had been in a celebratory mood all through FPW. Deepak has long been shouldering the Sisyphean task of helming Karachi's bi-annual fashion week omnibus and come fashion week, I have always seen him rushing about, exhausted to the core, an enduring frown creasing his forehead, ironing out the nitty-gritties. Quite often, he's been known to succumb to a temper tantrum himself – what's a fashion week without a few backstage skirmishes, eh?
And yet, this time, Deepak seemed calmer, less preoccupied, quite the Chairperson of the Fashion Pakistan Council (FPC) overlooking the two-day group shows before staging a solo production of his own. After all, if he's having a celebration, he might as well enjoy it.
'Madhaniya' pirouetted to a start with a shadow dance before rolling out an extensive wedding procession. The memo said that the collection would traverse the many stages of a wedding and I knew what to expect: sherwanis and suits for men and for women, the colour riot of Mehndi-wear, the cardinal reds for the Baraat and golds and pastels that dominate the Valima ceremony.
It all lilted prettily, with doses of star power thrown in: Sarwat Gilani, Mehwish Hayat and Adnan Siddiqui walked out as showstoppers and a special mention goes to the adorable little boy who grumpily preceded Mehwish, throwing the ceremonial rose petals in the bride's wake. His reluctant walk down the runway ended up trending on social media – this little one obviously wasn't a fashion aficionado!