Kate Spade pays colourful tribute to late founder at NY Fashion Week
2 min read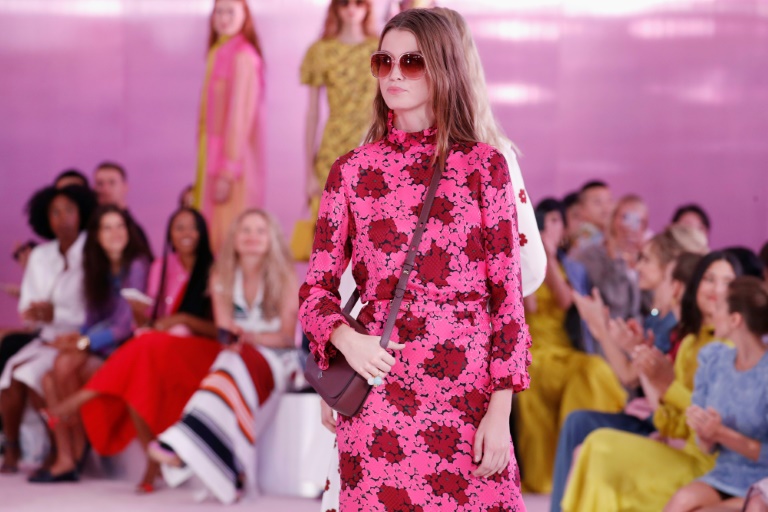 Kate Spade put the sparkle into New York Fashion Week on Friday, paying tribute in a riot of color to the handbag brand's founder, three months after her tragic death.
It was the label's first runway show at the bi-annual style fest, having previously opted for Instagram-able presentations, held this time in the lofty surrounds of the iconic New York Public Library.
The new creative director, Northern Ireland-born Nicola Glass, was already working on her debut collection when 55-year-old Spade, who founded the company with her husband, committed suicide in June.
Silver glitter ran down the center of the pale pink-carpeted runway, a nod to the woman whose brand has been synonymous with a joyful outlook on life since its founding in 1993.
"She left a little sparkle everywhere she went," said a pink note left on the seat of every guest. "In loving memory 1962-2018."
"Even though she hasn't been here for over 10 years, her spirit's definitely still here at the company," Glass, a former Gucci handbag and jewelry designer who previously worked at Michael Kors, told AFP.
The collection was rooted in the brand's DNA: color, fun, joyfulness for spirited women, sophisticated and feminine, yet wearable from day to evening.
Kate Spade's spring/summer 2019 is one of pale lilac, hot pink, dark green, chartreuse, florals and print, with block-heeled sandals and knee-high boots, and liberal use of the spade symbol.
Pale white balloon-style lights were suspended from the ceiling and an unusually diverse stream of models, although each very slim, strode the runway before taking their places on silver diases.
Besides the silk dresses, cropped pants, checked suiting and buttoned mini-skirts, they sported purses, sunglasses and silk headscarves knotted at the nape of the neck.
Coach (now Tapestry) bought the label in 2017 in a deal worth $2.4 billion. Spade ceded a majority stake in 1999 and sold her last shares in the mid-2000s for another $59 million.
Glass never met Spade in person, but hailed her as a role model woman, entrepreneur and designer.
"I think she really encouraged women to have fun with fashion, and that it wasn't intimidating, that they could express themselves," Glass said.
Spade committed suicide in her Park Avenue apartment on June 5, after battling with depression and anxiety for years despite a dazzling career that made her the darling of American career women.
"There was a moment when you couldn't walk a block in New York without seeing one of her bags, which were just like her: colorful and unpretentious," Vogue editor-in-chief Anna Wintour said.