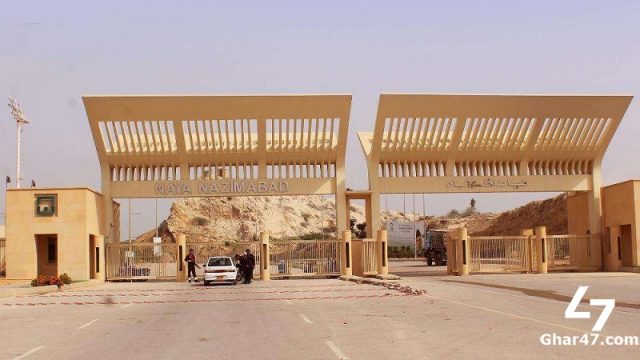 Arif Habib Group has totally denied all allegations of DC West
KARACHI: Deputy Commissioner (DC) West, Fayyaz Alam Solangi, has asked the Presidents of five banks to immediately cease the accounts of M/s Naya Nazimabad Housing Society and M/s Javedan Corporation as its Layout plan was declared 'managed & fabricated, letters issued by the DC said.
"Layout plan and its subsequent entries in favour of M/s Javedan Corporation Naya Nazimabad have been cancelled. Hence it stands cancelled," the Deputy Commissioner West said in a letter dated on Feb 12.
The Deputy Commissioner has asked the Presidents of Allied Bank of Pakistan, Summit Bank, Faisal Bank, National Bank of Pakistan and Pak Bionic Investment Company to immediately cease the account of both the companies.
In this connection, the Deputy Commissioner has also issued another letter on the same day, in which he also cancelled all Layout Plans in respect of M/s Naya Nazimabad Housing Society.
"This is submitted that the director of settlement Survey and Land Records Sindh Hyderabad has declared restoration of Ghat Wadh Form no 35 Deh Manghopir as 'managed & fabricated' vide above referred letter, a result of which entries in record of rights in respect of Ghat Wadh Form," the letter added.
According to Samaa TV report on Feb 11, the Sindh High Court (SHC) has asked authorities not to take any action on the 128-acre land acquired by the Arif Habib Group for its Naya Nazimabad housing project in Karachi.
Earlier, the Karachi West deputy commissioner had written a letter to provincial authorities stating that the land was provided for the housing project despite restrictions.
The letter was forwarded to the Sindh Anti-Corruption Establishment chairman, Sindh Building Control Authority director general, Sindh Board of Revenue and five banks.
The court issued notices to the Sindh Chief Secretary, SBCA, Karachi West deputy commissioner and others to appear before it on Feb 27.
In a statement issued here on Friday, the Arif Habib group has totally denied all allegations of DC West.
Ownership title of Naya Nazimabad land is absolute, lawful, clean and clear as concluded in investigations conducted by courts and several government agencies including Board of Revenue, NAB, and FIA from time to time. It is important to note that the land presently owned by the company has been in its possession since its nationalization through Economic Reforms Order of 1972.
All activities undertaken by Javedan Corporation Limited (JCL) including hill cutting, land levelling, infrastructure development, construction, sale and transfer bear perfect requisite approvals by the Board of Revenue (BoR), Lyari Development Authority (LDA) and Sindh Building Control Authority (SBCA).
Ghat Wadh (survey) form 35, which merely states land measurement and has no bearing on title, was created through proper procedure. Its cancellation was illegal and hence it was subsequently restored. Its genuineness is evident from several reports and documents of BoR.
It said that Naya Nazimabad, a housing project of Javedan Corporation Limited (JCL), is a fast evolving and cohesive community within Karachi for the progressive middle class. It is the only gated, master-planned project, of this scale, with provision for world class amenities. Currently, 6,000 units are owned by members of general public, the statement said.