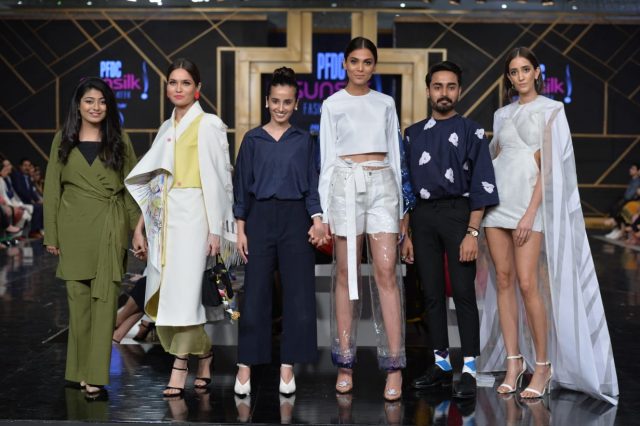 LAHORE: The glitz and glam of the 20th consecutive fashion week hosted by the Lahore based Pakistan Fashion Design Council (PFDC) continued on the second day of the PFDC Sunsilk Fashion Week.
The Council's collaboration with the Trade Development Authority Pakistan (TDAP) attracted international buyers, opening up more avenues to promote the business of fashion.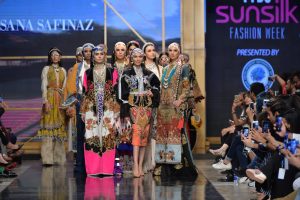 The evening commenced as guests entered through the blue carpet sponsored by Aquafina which was abuzz with fashion influencers and key representatives from the local and international fashion industries.
Hosting some of Pakistan's most renowned designers, the striking collections on Day Two of PSFW '19 represented high-street, lawn and debut designers. Rici Melion opened the show and the collections that followed included, Sameer Karasu, Zasimo, Hana, Chapter 2, Sana Safinaz, Aquafina Rising Talent (Hafsa Mahmood, Mahnur Azam and Zeeshan Mohyuddin,) Saira*Shakira and The House of Kamiar Rokni.
As is now traditional, the PFDC Sunsilk Fashion Week also marked the continuation of the Council's platform for young designers in their 'Aquafina Rising Talent' segment. Out of 24 qualified designers, three young and creative fashion students were hand-picked and nurtured by PFDC Council members to allow the integration of new ideas and concepts onto a platform as established as the PFDC Sunsilk Fashion Week. The designers, Hafsa Mahmood, Mahnoor Azam and Zeeshan Mohyuddin debuted their collection on the PSFW ramp alongside well renowned names from the Pakistan Fashion Industry.
Celebrating 20 years of consecutive, critically acclaimed fashion weeks, PFDC streamlined the process of making PSFW'19 an experience that is beneficial for stakeholders, benefactors and fashion enthusiasts both locally and internationally. As with past traditions, PFDC continues to work closely with industry professionals and designers to make an immersive and unique experience that highlights the talents of Pakistani designers. With the help of sponsors and partners curating a show of this magnitude becomes easier allowing the best of fashion to be put on the forefront.
On this occasion, Asima Haq, Director Personal Care, Unilever spoke about the brand's long lasting partnership with PFDC, "For 10 years, Sunsilk has collaborated with PFDC to create a show by taking contemporary fashion and allowing women to pave their personal success stories through Sunsilk. Moving forward, Sunsilk aims to open up possibilities for young women with dreams and aspirations that have to do with the fashion industry. We are always delighted to partner with PFDC and hope that our relationship continues to become even stronger over the years."
The Council organizes back-to-back Spring and Fall fashion trade events as per the international fashion calendar. It leads the industry through creative influence and is strategically working towards improving the business of fashion while repositioning Pakistani fashion in the global fashion economy.