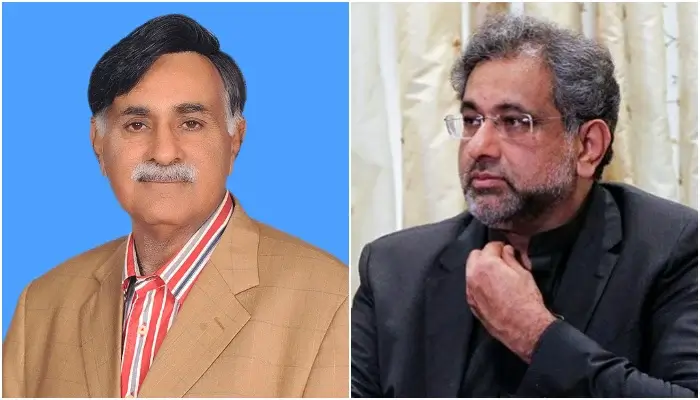 Shahid Khaqan Abbasi, Aslam Bhootani, Hafeez Sheikh and Fawad Hassan Fawad in the race of caretaker Prime Minister
KARACHI: The Pakistan Democratic Movement (PDM) government of Prime Minister Shahbaz Sharif and others is going to end on 9th August.
All the parliament leaders of PDM has thrown its weight behind Prime Minister in finalising name of caretaker premier.
According to the sources, the name of former prime minister Shahid Khaqan Abbasi and independent lawmaker from Balochistan Aslam Bhootani among others are being considered for the caretaker prime minister.
Sources said that ex-finance minister Hafeez Sheikh and Fawad Hassan Fawad, ex-principal secretary to Nawaz Sharif, are also among those. These names will be discussed in a meeting of allied parties today.
Various names in the meeting were considered for caretaker prime minister, source added.
However, the name of the caretaker prime minister has not been finalized till now. The coalition parties have decided to continue further consultation
The names of Shahid Khaqan Abbasi, Hafeez Sheikh, and others were considered in the meeting as candidates for the interim PM slot.
At a dinner reception on Thursday, Prime Minister Shehbaz Sharif said that the National Assembly will be dissolved prematurely on August 9 — three days before its term ended.
"No country could make progress without political stability," he said, adding politics of the country was poisoned with the culture of baseless allegations and abuse.
He said he had critical talks with the IMF Managing Director in Paris which finally led to the successful conclusion of the agreement.
The understanding was reached during a meeting of allied parties in the Centre, held via video link to deliberate on the caretaker setup.
The Prime Minister said that consultation with Nawaz Sharif is also going on and opposition leader Raja Riaz would also be consulted after finalisation of the name.
PM Shehbaz said after consultation and as per the decision by the leadership, his party could go for seat adjustment with coalition parties in some of the constituencies.