Prime Minister Khan asked to initiate probe against local car assemblers
4 min read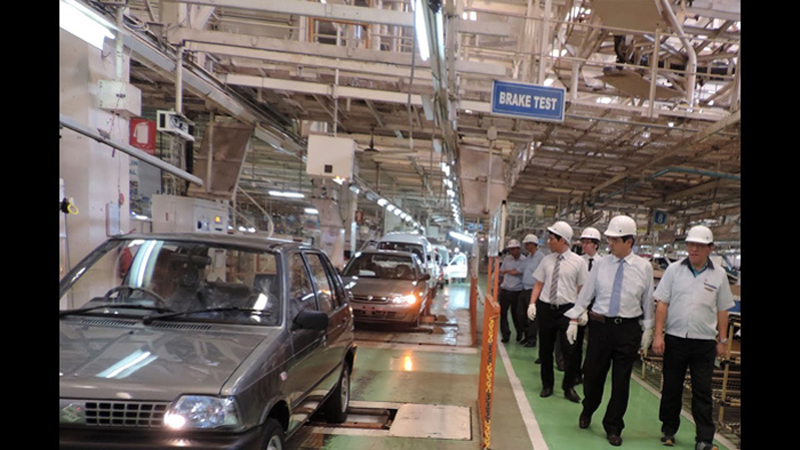 Local auto assemblers are making huge profits in Pakistan through unchecked price increase and wasteful expenditures on foreign exchange on importing spare parts and CKD units from abroad: H.M Shahzad
KARACHI: The federal government should investigate last 30-year performance of local auto assemblers and manufacturers and how they get appointed their selected person as chairman of Engineering Development Board (EDB) flouting all standards of conflict of interest, said H. M Shahzad, Chairman All Pakistan Motor Dealers Association (APMDA).
In a letter to Prime Minister Imran Khan, their APMDA's Chairman said, "the local auto assemblers are making huge profits in Pakistan through unchecked price increase and wasteful expenditures on foreign exchange on importing spare parts and CKD units from abroad."
Chairman said that three main assemblers were given permission 30-year ago to assemble vehicles in collaboration with Japanese auto manufacturers under Technology Transfer Agreements under which complete cars were to be manufactured in the country in accordance with the deletion-program in 5 years' time for which investments were to be made by the Joint-Venture partners. The government had given many exemptions in taxes and duties as incentives which are in vogue even today after 30 years.
H.M Shahzad said that no noteworthy progress was made for the compliance of the Deletion-Program under the Technology Transfer Agreement (even to this date) and extensions were sought on one pretext or the other from the Government (Ministry of Industries and EDB). Eventually, they managed to get the EDB to completely shelve the Deletion Program in favour of a new Tariff Based System, TBS under which there is no mandatory deletion and parts are allowed to be imported freely. In this respect, allegations of solicitations and gratifications have been made in the media of and on but we do not want to go into that at this time, the letter said.
After 30 years of operations, the result is, there is no sign of promised local car because there is no significant progress in the localization of parts and the resultant decrease in prices. The assemblers have formed Cartels and are enjoying complete monopolies. Frequent price increases, (as much as 5 times a year), advance bookings and black marketing are the norms of their trade.
Just recently, Indus Motors has increased the price of their not yet sold new model "Yaris" third time by Rs 150,000 to 500,000 while Honda has increased price by Rs 120,000 and Suzuki will soon follow. They have been citing high taxes as reason for price increase but this year there has been no increase in taxes.
Shahzad said in a letter that our neighboring country, assembly of same model of Suzuki was started several years after Pakistan. They are now manufacturing many more models of Suzuki and other makes indigenously and India is now a major exporter of automobiles while our industry is still living in oxygen tents of exemptions and incentives.
He further claimed that CKD/SKD kits are imported by the assemblers from all over the world costing huge amount in foreign exchange. Besides they are also allowed to import brand new CBUs. Last year an estimated Rs 300 billion in foreign exchange was spent on the import of parts and CBU vehicles.
He said that it is claimed by the assemblers that they have invested $2 billion in their ventures. They should be reminded that the land given to them by the government at throw away prices has over the years appreciated more than 500 times and now costs trillions of rupees and their investment has been recovered in profits more than 100 times over in the last 30 years. A cursory check of their share prices in the market will verify their huge profits, the chairman said.
Remittance of profits worth Rs 20 to 25 billion in foreign exchange was repatriated to their principles in Japan yearly.
Sub-standard, low quality vehicles with minimal safety features are being sold to unsuspecting Pakistani consumers and playing with their lives. Even a 3-year old 660cc used car imported under the Baggage schemes for the Overseas Pakistanis has multiple front and rear air bags and several other safety features, he claimed.
Rampant black marketing in the form of On-Money/Premium has to be paid for early delivery. Otherwise, the waiting period is more than six-months after advance booking. Their dealer association, PAMADA is at the fore front of these nefarious and illegal activities.
For most of the time in the last 30 years, 100% advance was taken from customers at the time of booking and together with the mark-up enough cash flow was accumulated to actually finance their operations.
The chairman said that another avenue to fleece the customers is in after sales service and parts prices and rates. Their spare parts are priced exorbitantly high and are not sold to customers but he is forced to get his vehicle serviced or repaired in their franchise workshops and pay exorbitantly high bills.
The CCP had taken exception to these monopolistic practices and issued notices and imposed fines on them as well.
Their claim of giving employment to a large number of people is also another falsehood. The fact is that all 3 companies together employ not more than 6 to 8 thousand workers. Almost all of these are on contract at low wages and having no benefits.
H.M Shahzad has requested Prime Minister Imran Khan to provide opportunity to the Pakistani consumers to purchase a good quality car of his choice and affordability. This will only happen if these assemblers are provided competition which is available in the form of used cars which are at low priced and of good quality. Commercial import of used cars should, therefore, be opened under the same laws as for new cars allowed to the assemblers.