PSX places four companies including Media Times in defaulter list
4 min read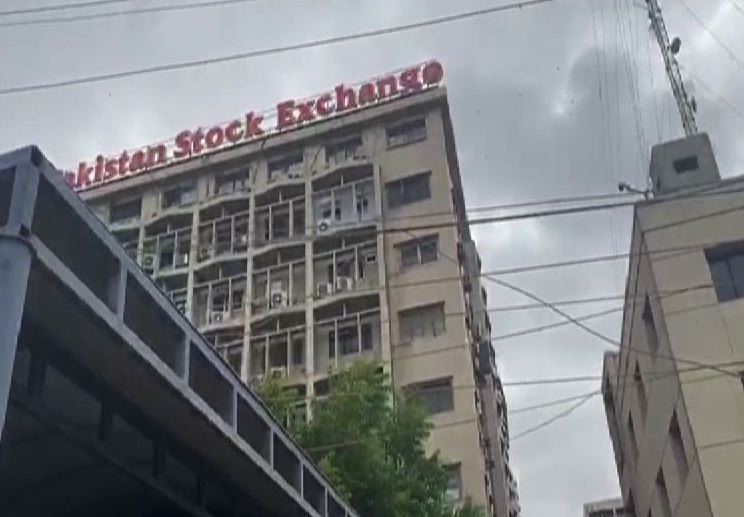 In case the companies fails to comply with the above within the stipulated time, action may be taken under PSX regulations
KARACHI: Pakistan Stock Exchange (PSX) has placed four companies including Media Times Limited in to defaulter list as they failed to comply the regulatory responsibility, the PSX said in a statement here on Wednesday.
The PSX placed companies in the defaulters list including Media Times Limited (MDTL), First Capital Securities Corporation Limited (FCSC), Pace Pakistan Limited (PACE) and Chakwal Spinning Mills Limited (CWSM).
First three companies, which the PSX placed on defaulter list, belonged to former governor Punjab (late) Salmaan Taseer and now his family including wife, sons and brother-in-law are running their operations from Lahore based head office.
As required under clause 5.11.2(c) of PSX regulations, these companies are hereby instructed to rectify the non-compliance(s) within 90 days i.e till February 2, 2021 clearing all outstanding dues of the exchange. "In case the companies fails to comply with the above within the stipulated time, action may be taken under PSX regulations," a Notice of PSX said.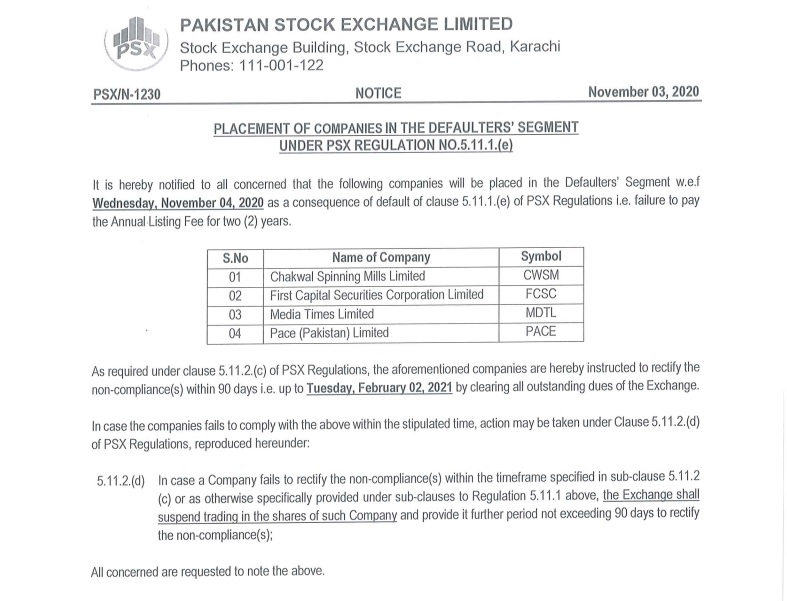 The Media Times Limited, which had totally shut down its two TV Channels and one Urdu Newspaper, is still active at 'PSX's Trading Hall' and sometime its share trading volumes touches all times high.
Since 2015, the MDTL never gives real picture of its business to the Pakistan Stock Exchange (PSX). The investors are continuously investing in this company with their blind eyes.
When PSX including its Managing Director (MD) Farrukh H. Khan was informed about this fraud, the officials of PSX conducted an internal/official inquiry against the company. The Management of Media Times Ltd once again denied and gave wrong statement to PSX that their Channels and newspapers are functioning in Pakistan according to law.
There is no further action taken against the Company's Directors by the PSX and Securities and Exchange Companies Limited (SECP). Local investors are being deceived at PSX as the Media Times Ltd had already defaulted but the owners of the company are still getting benefits from PSX, our previous report siad.
According to the company's inside sources, the company had shut down its two TV Channels in 2017-18 while it had closed its one Urdu newspaper 'AajKal' in 2010 after the resignation of its Editor Najam Sethi. There is no information at PSX's portal regarding closure of its TV Channels and the newspaper. Only one newspaper 'Daily Times' is being run on its website. The company had closed its printing operations from Karachi and Islamabad in 2017, the report added.
"Why the SECP and PSX are silent over it and why they are not taking action against this company, which has nothing to trade but only name," one of the broker said.
The company had also sold its property (where this Daily Times and B-Plus offices were located) to a bank to rid-off loans worth millions of rupee and according to MDTL's sources, the company is paying installments worth millions of rupee to pay-off its loans.
To get salaries and other receivables, over dozens of cases of its employees are pending before the courts in Karachi, Lahore and Islamabad.
Former governor Punjab Salmaan Taseer, who was considered a 'king of businesses', was the owner and got registered Media Times Limited with the SECP. It was incorporated in Pakistan on June 26, 2001, as a Private Limited Company Under Companies Act.
Later, it was converted into Public Limited Company on March 06 2007. The Company was engaged in printing and publishing daily English and Urdu newspapers by the name of "Daily Times" and "AajKal" respectively. The Company is also operating satellite Channels by the name of "Business Plus" and "Zaiqa" respectively.
After killing of Salmaan Taseer in an attack by his owned guard in Lahore, the companies were shifted to his family. Amna Taseer wife of Salmaan Taseer had been given responsibility of the chairperson of this group, while her son Shehryar Taseer was become the CEO of the Media Times Limited.
Pace (Pakistan) Limited ('the Company') is also a public limited Company incorporated. The object of the Company is to build, acquire, manage and sell condominiums, departmental stores, shopping plazas, super markets, utility stores, housing societies and to carry out commercial, industrial and other related activities in and out of Pakistan.
The First Capital Securities Corporation Limited was incorporated in Pakistan on April 11, 1994 as a public limited company. The Company is involved in making long and short term investments, money market operations and financial consultancy services.
Most of its Directors are their family members like brothers, sisters, aunty and uncle etc.