Once die hard lovers, Bollywood actors Salman Khan and Aishwarya Rai were at a point known as the hit couple of the Hindi film industry.
However, fate had something else in store for the actors as their love and relationship failed to stand the test of time.
Recently, a throwback picture showcasing the two actors has been doing the rounds on the internet.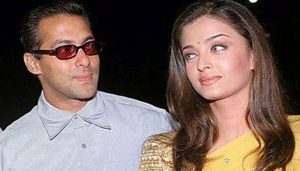 The viral picture has Salman and Ash posing casually for the camera with a smile on their face. The actors are seated next to each other on a couch.
While Aishwarya is wearing a sleeveless top, and has a cup of tea in her hands, Salman is posing in a dark blue shirt and grey pants.
The picture dates back to the time when the two reportedly got back together after meeting on the sets of Sanjay Leela Bhansali's 'Hum Dil De Chuke Sanam' in 1999.
The image after it went viral, has left Salman and Ash's fans with mixed feelings.
While some have commented about how Salman and Ash look cute together, others have brought to the limelight the more controversial part of their relationship: the domestic abuse.
Reacting to the post's caption that it will invoke nostalgia, one fan retorted, "About what? Domestic abuse?"
Salman and Ash dated each other for about 3 years before parting ways in 2002.
According to a recent Huffington Post article, Aishwarya had said post the breakup, "He would call me and talk rubbish. He also suspected that I was having affairs with my co-stars. There were times when Salman got physical with me, luckily without leaving any marks and I would go to work as if nothing happened." Salman has denied the allegations.
Aishwarya later married actor Abhishek Bachchan in 2001 with whom she has a daughter named Aaradhya.
Meanwhile, Salman remains unmarried.