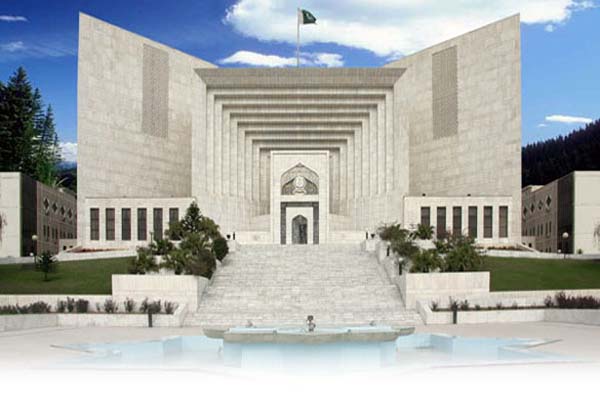 Supreme Court orders restoring corruption cases against public office holders
ISLAMABAD: The Supreme Court struck down National Accountability Ordinance (NAO) amendments bill of the parliament made during Pakistan Democratic Movement (PDM) led government tenure. The Chief Justice announced his last judgment in Islamabad on Friday with a majority 2-1 verdict.
The Chief Justice Umar Atta Bandial, headed by three member bench, heard more than 50 hearings on the petition of Chairman Imran Khan of Pakistan Tehreek-e-Insaf (PTI) against the amendments. The court had reserved judgement on September 5.
Chief Justice Bandial fulfilled his promise and announced judgement on Imran Khan's petition.
The Supreme Court restored all the NAB cases against public office holders including former Prime Minister Nawaz Sharif, Shahbaz Sharif, Marium Nawaz, Asif ali Zardari, yousuf Raza Gilani, Shahid Khaqan Abbasi and others.
According to the order, the petition against NAB amendments was declared admissible by the majority decision, restoring all closed enquiries filed with the anti-graft body.
The apex court ordered restoring all graft cases worth Rs 500 million that were closed down against the political leaders belonging to different political parties and public office holders and declared the amendments void.
Furthermore, the court directed the NAB to return all records related to cases to relevant courts within seven days.
The verdict on Khan's appeal further added that the NAB amendments under question affected the rights of the public listed in the Constitution.
The verdict has some far-reaching consequences as the striking down of the amendment would mean that references against some of the country's political bigwigs will once more land in accountability courts.
The NAB amendments not only reduced the four-year term of the NAB chairman and the bureau's prosecutor general to three years, but also placed all regulatory bodies functioning in the country out of NAB's domain.
Furthermore, the changes included that a three-year term be set for the judges of the accountability courts and that courts be bound to decide a case within one year.
Challenging the amendments, Khan approached the apex court and petitioned that the amendments be struck down on grounds that they were unconstitutional.