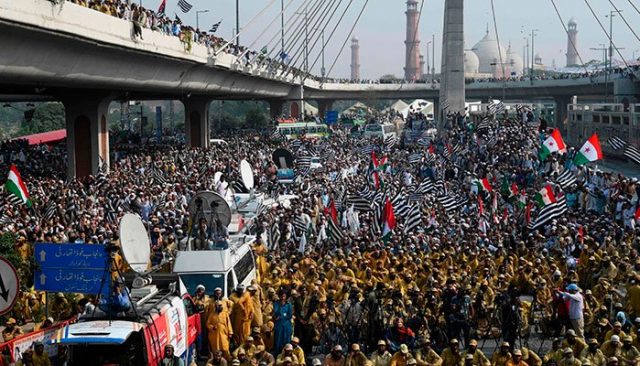 ISLAMABAD: There is no other option except to send these rulers to go home, said Chief of Jamiat Ulema Islam-Fazl (JUI-F) Maulana Fazlur Rehman on Sunday. He further warned the government to lock entire country in future, if there demand were not accepted.
Addressing the gathering of Azadi March in Islamabad, Fazalur Rehman said every Pakistani should be given the right of vote without any rigging. He said that the government is recommending to file complaints with the Election Commission (EC), but the EC is even more helpless than us.
He further announced that we have decided not to go to any court or EC." he said. "Only a parliamentary committee will decide about rigging," he added.
Fazl said that a case of the PTI s foreign funding was being heard by the Election Commission since the past five years but no verdict had been given on it. "If it couldn' t decide about the foreign funding case then what decision can the ECP give on other matters," he wondered.
The JUI-F chief has decided to summon an All Parties Conference (APC) on the issue of sit-in, while head of the Rehbar Committee Akram Durrani has been tasked to contact the opposition parties for the APC.
He said, "these rulers will have to go." "You will have to give these people the right to vote." Fazl said that D-Chowk was quite a small place for such a big gathering.
"H-9 is an open space–D-Chowk is quite small for a gathering like this," he said. "Whatever decision we make, we will do so with consensus with all opposition parties," he said. Fazl said that today the entire city had been closed down but he could shut down the country as well.
"We will shut down the entire country as well and continue our war," he said.
Fazlur Rehman says institutions have strayed far from the boundaries laid out for them within the Constitution. "Our army is becoming controversial. We cannot see it becoming so."
Rehman said that even the Supreme Court chief justice has pointed this out. "Every institution is crossing its boundaries and interferring where it shouldn t."
He asked the participants to trust their leadership as it will take best decision for them, adding that the movement to oust the premier "will continue to move ahead and will never be on the back foot".
"We have a Plan B, a Plan C. This is only Plan A. Your jails will fall short of space." Fazlur Rehman said to retreat is "equivalent to a major sin" at this point.
Maulana Fazlur Rehman earlier decided not to end sit-in against government. The decision comes after an important meeting of the Jamiat Ulema-e-Islam-Fazl (JUI-F) presided over by Maulana Fazlur Rehman.
The meeting discussed the Rehbar Committee's recommendations including resignations, shutter down strike across the country and countywide wheel-jam strike.