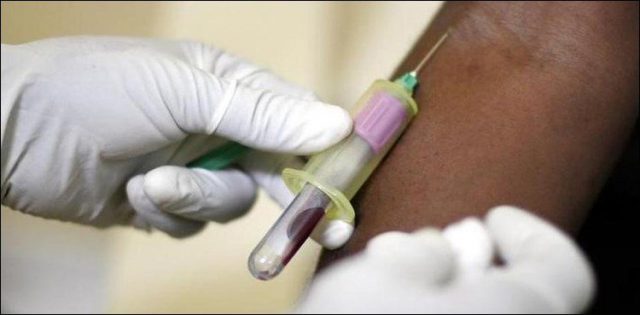 LARKANA: The human immunodeficiency virus (HIV) acquired immunodeficiency syndrome (AIDS) tests of 2,028 people have been conducted in four days in Larkana and Rato Dero, 59 of them have been confirmed of affected by the life-threatening disease, private TV Channels reported.
The Sindh AIDS Control Programme report apprised this on Tuesday. Samples of the AIDS cases were sent to Jacobabad laboratory for testing.
The Sindh AIDS Control Programme has sent the report to the federal government.
A doctor, suspected of involvement in spreading the HIV AIDS in 59 people in Larkana and Rato Dero, was arrested on Tuesday.
Doctor Muzaffar Ghangro has been arrested on directive of the deputy commissioner on accusation of spreading the disease. Muzaffar Ghangro has rejected the allegation.
The report said another local doctor Imran Ali Rabbani had reported the AIDS cases. It said Imran had apprised the Sindh Health Department and head of AIDS centre about it. He also told media about the spread of the disease.
According to the Deputy Commissioner Larkana, Noman Siddique, more than 45 people among them 25 children, were transmitted AIDS by doctor, Muzaffar, who injected the patients visiting him for treatment as an act of revenge.
"Dr Muzaffar is at last stage of AIDS and a case has been registered against him by the Sindh Health Care Commission", the DC continued.
The arrested doctor is said to be mentally ill and a medical board has been formed to examine him, the DC said.
The authorities took notice of the matter as the number of HIV-positive cases saw sharp rise in the area.
Mr Siddique said the affected persons will be treated by the government and a new centre in this regard, will start its working from tomorrow in Ratodero.