Magnanimity of PIA Management: Is it the right way forward
4 min read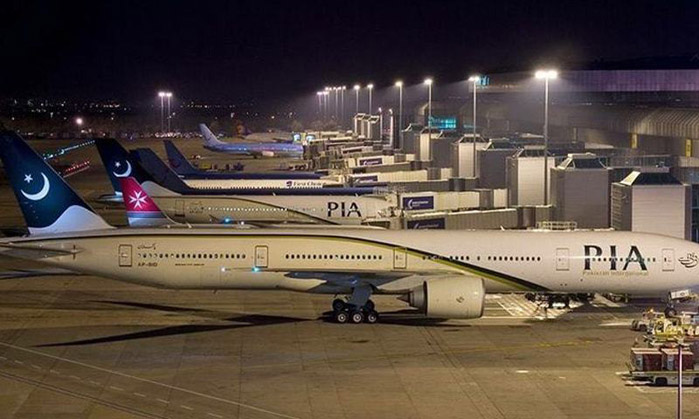 Special Audit of 10-year of PIA (2008-2017) pointed out that average flying of PIA was 40 hours and why PIA had been paying for guaranteed 75 hours to pilots
Recently Pakistan International Airlines Company Limited (PIACL) management finally took the long awaited step of allowances rationalization which was a source of concern and unrest among different categories of employees since long.
In PIA, different associations representing different categories of employees depending on their nuisance values had gotten the unjustified perks and privileges. How can the pilot get the guaranteed flying allowances of 75 hours even if he has not flown a single hour.
Special Audit of 10-year of PIA (2008-2017) pointed out that average flying of PIA was 40 hours and why PIA had been paying for guaranteed 75 hours to pilots (even now PIA management has just rationalized the flying allowance to actual, meaning pilot will get the flying allowance of whatever he flies actually, as such no reduction in rate per hour).
Similarly, how an engineer can get allowance for an aircraft which is obsolete and not in the current inventory of PIA. Employees from other cadres have been getting qualifications allowances and qualifications pay as well which was duplication. PIA has reached to this stage only because it has been eaten by powerful pressure groups from within and outside of PIA and has left a skeleton to be recovered by present government and management.
Serious efforts are being put in at highest level to recover the national airline and its glory. Unfortunately, the same very pressure groups are becoming the hurdles at every step and not letting the management do its job. The seriousness of government is evident from extension of Essential Services Act in PIA which restricts the pressure groups or individuals in stopping of work, instigating others or calling a strike.
It has been learnt that PIACL management has been given a go ahead by the competent authority to deal with any un-justified retaliation on the allowances Rationalization with iron hands. PIA is under huge debts and due to COVID-19 the whole aviation industry has so far taken a huge loss of over $400 billion. Many airlines around the globe filed for bankruptcies and laid-off thousands of pilots and other staff to cater for low passenger demand.
PIA management was categorically pointed out by Supreme Court of Pakistan about the over staffing in PIA especially of pilots as for 29 aircraft nowhere in the world 450 pilots are kept and paid hefty allowances & salaries.
However, up to now, PIA is the only airline which didn't fire a single pilot due to COVID-19 and kept paying the full salaries during peak months of the pandemic. While globally since start of pandemic many airlines initially reduced salaries of pilots, followed by voluntarily separation, followed by leave without pay, followed by termination. Meanwhile only in the month of October Turkish airline laid off 16 Pakistani pilots and other expats, Also Salam Air laid-off 24 Pakistani pilots & Viet jet also laid off several Pakistani pilots. Besides so much pressure of reduced revenues due reduced flying during Covid-19, still PIA only deducted salaries to adjust the huge liquidity issues being faced by the airline and recently lifted the salary cut also once cash flows got better. Airline industry is a corporate industry which works on profit and loss principle. Emirates airline laid off thousands of pilots in last few months along with grounding all wide bodies beside getting a huge bail out of $2 billion in September 2020.
However, PIACL even today has excess pilots on Boeing 777, beside the fact that Boeing fleet is almost grounded for last 6 months, huge maintenance costs being paid by PIA to keep those aircraft operational, all Boeing pilots are being paid salaries, which no other airline in the world is doing.
Even today PIACL management is doing everything to explore different horizons and increase the revenues beside the rise of a second Covid-19 wave which is already in Pakistan. If some male-factors are unable to grasp the global picture of Aviation Industry & doesn't realise that everyone exists in PIA, then such individual or groups of individuals must be dealt with stern action. All possible steps are being taken by top management in saving the jobs of thousands of employees besides huge pressure to reduce the strength and rationalize the strength & allowances of pilots as per the audit report.
Airlines globally have been given over $160 billion bailout packages just to survive this pandemic, however beside this still they laid off thousands of pilots. Many pilots in UK are now searching jobs in other professions.
It is high time that everyone must understand the true picture of PIA and realise that aviation globally is the most affected industry in COVID-19 and recovery of airlines to pre-Covid levels isn't expected till 2022.
Coming months are being predicted by global bodies like IATA and ICAO as difficult months for aviation. More airlines are expected to go off the radar due bankruptcies. However, still during essential services act if someone refuses duty or instigate others to create hindrance in the airline operations doesn't deserve to be a part of PIA and strict action should be taken by the management against individual/ group of individuals .
Serving and especially Flying for PIA is an honour which very few have. However if anyone has some misconception about forcing management into any unnecessary pressure, must keep this factor in mind that nowadays experienced staff including pilots availability is not an issue for any airline.
PIA management seems on a right track but will have to take some strong and difficult decisions, otherwise, these self-centered associations and individuals will raise their heads whenever they will find any opportunity.
The writer is Akram Zaidi, Ex-employee of PIA