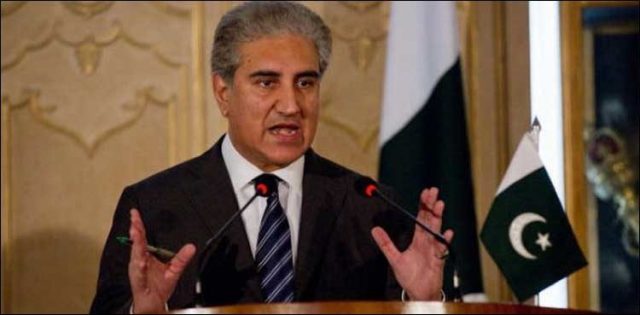 ISLAMABAD: Foreign Minister Shah Mahmood Qureshi on Thursday urged the World Bank to take notice of Indian threats to stop the flow of water into the country.
Talking exclusively on Dunya News program "Dunya Kamran Khan Kay Sath", he said that India gave an irresponsible statement regarding stopping the flow of water into Pakistan, adding that he had given reference to the issue in his letter to the UN chief.
World Bank is a guarantor of the Indus Water Treaty between Pakistan and Indian, he said.
The foreign minister went on to say that Indian Prime Minister Narendra Modi had said he had given free hand to the country's armed forces. We reviewed his statement and then written a letter to the UN chief in this regard, he said.
"Today, Prime Minister Imran Khan has authorized Armed Forces of Pakistan to respond decisively and comprehensively to any aggression or misadventure by India," Qureshi said.
Earlier, after threatening to isolate Pakistan on international level, India is now determined to stop the flow of water into the country.
Indian Minister for Water Resources has confirmed the warning.
In a tweet, Nitin Gadkari said that the government under the leadership of Narendra Modi has decided to stop the water flow to Pakistan. He maintained that India will divert water from Eastern Rivers and supply it to Jammu and Kashmir and Punjab.
The minister told that the construction of dam has started at Shahpur- Kandi on Ravi River.
He asserted that water from the three rivers (Ravi, Beas and Sutlej) will be diverted towards occupied Kashmir.
He declared all the projects as 'National Projects'.
The Indian PM has many times threatened to use water as weapon against Pakistan in the past.
Addressing the nation on the state media on Tuesday, Prime Minister Imran Khan had categorically declared that Pakistan will retaliate with full force in case of any aggression by India over the Pulwama incident.
"Pakistan will not think of retaliation, we will retaliate," the Prime Minister warned India.
He said the Indian leadership must realize that it is easy to trigger a war but it would certainly be not in any one's control to end it as per his desire. He said they should also note that where such a provocation will take the two countries and the region.
The Prime Minister however hoped that better sense will prevail in India and they will come to the negotiating table to sort out the matter through dialogue.