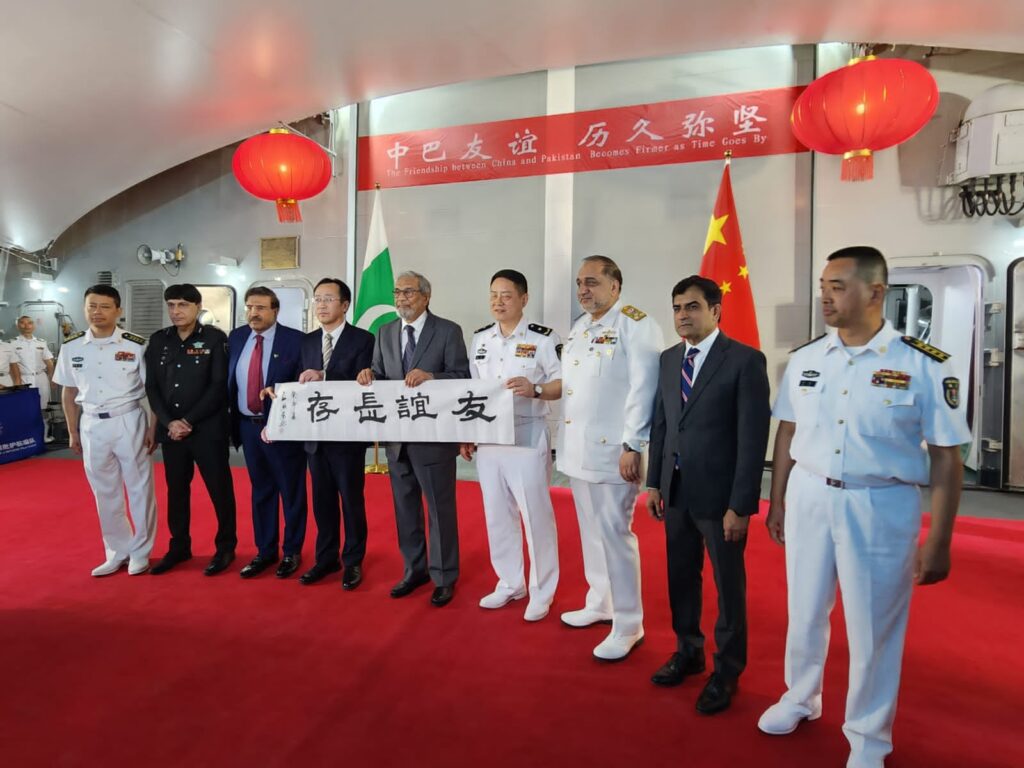 KARACHI: Caretaker Sindh Chief Minister Justice (R ) Maqbool Baqar welcomed the Chinese Naval Fleet at the beautiful city of Karachi Port (East Wharf) and urged Chinese personnel to visit this megalopolis city, which takes pride in its long history of old as well as modern eras protected by its seaport, old and new buildings, its cuisine and especially its people. Karachi is a beautiful blend of urban and rural, old and modern lifestyle.
This he said while speaking at a reception the Chinese Consul General Yang Yundong had hosted for the Chinese Naval Fleet on the Ship Deck at East Wharf. The reception was attended by Home Minister Brig (R ) Haris Nawaz, Vice Admiral Mouhammad Faisal, Chinese Navy Fleet Commander Mr Sun Bo and others.
The beauty of Karachi and its pleasant breeze in this open sea also welcome the fleet from China. He added that the people of Pakistan and China were already connected with mutual respect, love, and fraternity but the CPEC-related connectivity has narrowed the distance of travel, development, and cooperation altogether. "Under the CPEC and non-CPEC projects, Sindh has become home to our Chinese brothers," he said.
The caretaker chief minister addressing Consul General of China Yang Yundong, Commander Fleet Sun Bo, and other Chinese and Pakistani friends shared his experience of his recent visit to Beijing.
Yang Yundong, the Chinese Consulate General in Karachi, in his speech warmly welcomed all the distinguished guests to the deck reception.
He also welcomed Admiral Liang Yang, who led the Chinese Naval Fleet to visit Karachi and hold a joint maritime exercise between the Chinese and Pakistani navies.
At the same time, positive outcomes have been achieved in the security sector. Consul General said that the Global Security Initiative as well as the Global Development Initiative and Global Civilization Initiative, which were proposed by Chinese President Xi Jinping, have received positive responses in Pakistan.
Chinese CG confidently said that China has always been a builder of world peace, a contributor to global development, and a defender of international order.
Lastly, concluding the event, a colorful cultural and music show was performed by Chinese artists.
About The Author