Shell Pakistan, PSO and Hascol also announced that they will participate in the strike call called by Pakistan Petroleum Dealers Association (PPDA)
Federal Minister for Energy Hammad Azhar Wednesday said that the next meeting of the Economic Coordination Committee (ECC) would decide on the profit margin demanded by petroleum dealers on fuel prices.
He said that the government is in contact with the petroleum dealers association and a summary aimed at reviewing their margin on fuel prices is already being tabled before the ECC.
A spokesman for the petroleum division while commenting on the strike call from the petroleum dealers said that the ministry is committed to a suitable increase in the margin of oil marketing companies and dealers.
"The federal cabinet is likely to decide on a margin within 10 days," it said.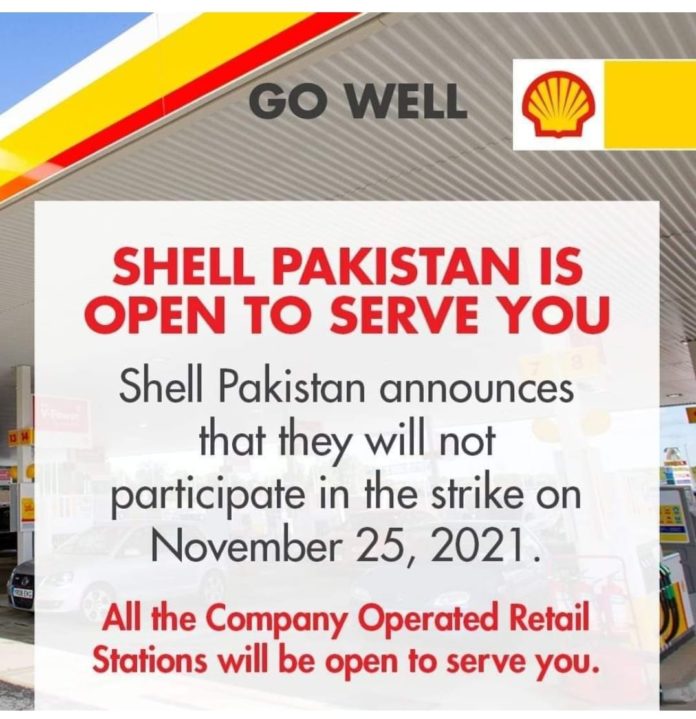 The ministry further said that all fuel companies including PSO, Shell, Total, and others would operate their petrol pumps tomorrow and they had dispatched the oil tankers for ensuring effective oil supply nationwide.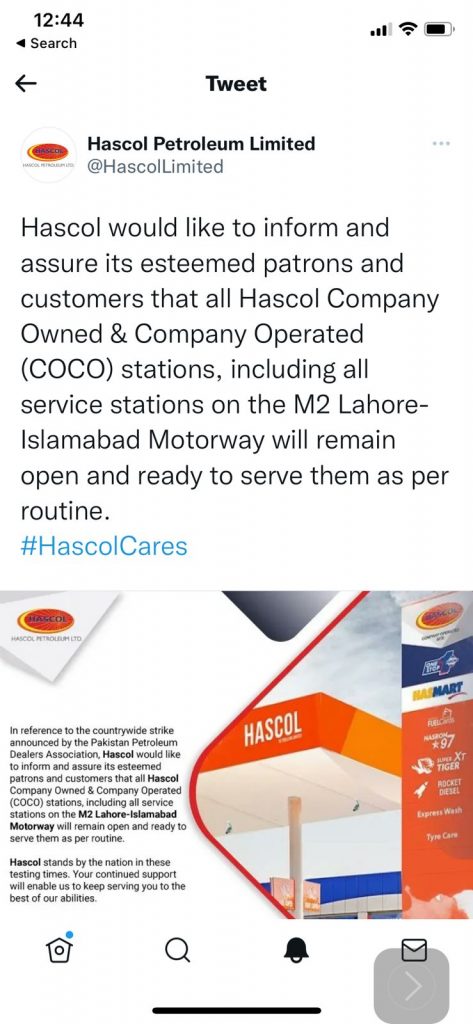 Through a notice, Shell Pakistan has announced that it would not participate in the strike call by Pakistan Petroleum Dealers Association (PPDA) on November 25 against low-profit margins.
Meanwhile, Pakistan State Oil (PSO) also announced that its several pumps in Karachi and other parts of the country would be opened during the countrywide strike on the call of Dealers' association.
Fuel pumps across the country have been crowded since Tuesday morning because petrol will not be available to the public from Thursday, 6 am. Only ambulances will be able to get petrol from Thursday.
However, Pakistan State Oil (PSO), state-owned fuel company, and Shell Pakistan have decided to keep its company operative stations open across the country during the Thursday strike.
"All our company-owned and company-operated (COCO) stations nationwide will remain open and continue to function normally," the statement read.
The petrol pump dealers association had earlier announced to go on strike on November 5 following the call of the central organisation to demand the hike in commission but after their negotiations with government, they called the strike off.
In a press conference, the president of the petrol pump dealers association Owais Arshad had said that the petrol pumps would observe a strike on November 6 to protest against the unchanged commission rate for years.