Maleeha Lodhi stresses for diplomatic solution for Palestine issue
2 min read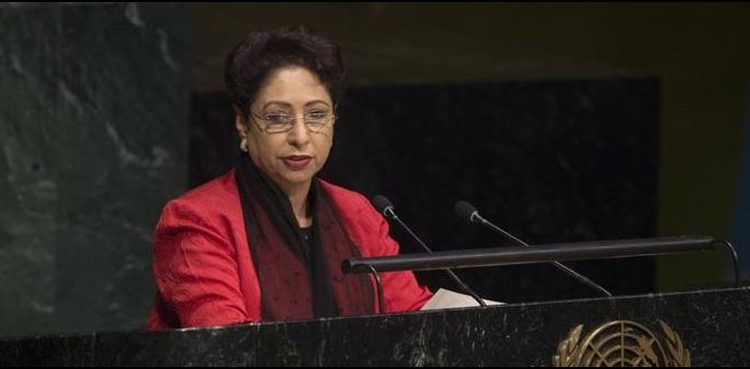 ISLAMABAD: Pakistan's Permanent Representative to United Nations (UN) Maleeha Lodhi has called for a diplomatic solution of Palestine issue and added that it is the time to end the tragedy.
Maleeha Lodhi urged the UN Security Council on Friday to pursue, on an urgent basis, diplomatic solutions to the Palestine issue, reads a press release.
She said, "As international efforts to bring an end to the suffering of the Palestinian people have faltered, the burning cauldron of anger and pervasive sense of injustice have inescapably sowed the seeds of animosity and violence in the entire region, fueling instability and intensifying insecurity across the Middle East."
Speaking in a debate on the situation in the Middle East, the Pakistani envoy said the fundamental tenets of the two-state solution are being systematically dismantled in plain sight of the international community.
According to the press release, she said that long-standing Security Council resolutions on the status of Jerusalem and Israel's illegal settlement expansion into occupied territories continued to be flouted.
She also said that the Israeli decision to dismantle the Bedouin community of Khan al-Ahmar revealed its policy of forcibly displacing Palestinians from their land. "This measure takes fresh aim at the roots of Palestinian identity and their existence as a people," she told the 15-member Council.
Lodhi said, "The killing fields of Gaza continue to be drenched with the blood of innocent Palestinians — over 200 civilians have been killed since peaceful protests began in March 2018, including another seven on 12 October."
"If we want to put out these fires of conflict, we must act decisively against injustice and oppression across the world," she added.
Reaffirming Pakistan's commitment to the Palestinian cause, Ambassador Lodhi urged the international community to continue to lend its voice in support of a two-state solution based on agreed parameters, including pre-1967 borders and with Al-Quds Al-Sharif as the capital of the Palestinian state.
She said, the decision by the United States, a major donor, to end all financial support to UNRWA, — the UN agency tasked with caring for Palestinian refugees — cast a deep shadow of uncertainty over the sustainability of many of the Agency's critical activities, which have long served as a vehicle for stability and social cohesion.
"As an expression of our solidarity with them, Pakistan is making an additional contribution to UNRWA this year," she told delegates.