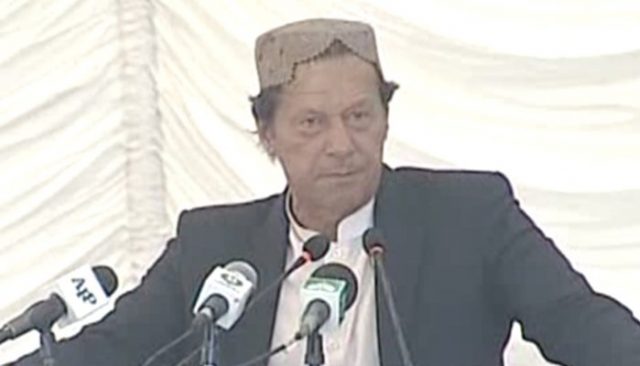 CHACHRO: Prime Minister Imran Khan, addressing his first rally post the Pakistan Tehreek-e-Insaf's (PTI) election win in poverty-stricken Tharparkar, said he came to Thar because it was the most backward area of the country and almost half of the residents were Hindu.
Prime Minister Khan said minorities were being targeted in India, but his government stood with the people of the Hindu community and would not tolerate any injustice against them.
"In this Pakistan, it is our responsibility to ensure that minorities are equal citizens and will not be discriminated against," Prime Minister Khan stressed.
He said the politics of Indian Prime Minister Narendra Modi was to divide people and when a leader starts this, his workers do is happening to Kashmiris in India after the Pulwama attack.
'We want peace'
Speaking on the recent tensions with India, the prime minister said Pakistan wanted peace and had repeatedly stated this. "We returned the pilot because we don't want war. We decided that if you [India] have casualties in Pulwama we are willing to provide help. However, no one should mistake this for fear."
The prime minister added that the main focus of his government was to eliminate poverty. "When I spoke to Modi after becoming PM, I said South Asia has the highest rate of poverty and we should resolve issues through dialogue. But I did not know that as soon as their election campaign began, their purpose was to gain votes by spreading hate."
'Will not let armed groups function in Pakistan'
The prime minister stressed that his government would not let any armed groups function in Pakistan and was committed to implementing the National Action Plan (NAP).
"Under the NAP we will not permit any armed group in Pakistan. No country does this. This was decided by all the parties of Pakistan. Since our government came into power, we have decided that we will implement the NAP. Pakistan's soil will not be allowed to be used for terrorism."
'Karachi destroyed by one person for power'
During his address, the prime minister spoke on Karachi and how the metropolitan city had been destroyed by one person.
"We saw Karachi was destroyed as one person spread hate for power. If there was no politics of hate in Karachi it would be rivalling Dubai. People left their businesses because one person decided to spread hate for his power."
'Bilawal does not know struggle'
The prime minister also spoke about Pakitan Peoples Party (PPP) chairman Bilawal Bhutto Zardari, telling those in attendance that it was "unfortunate that the leader of Sindh does not know what struggle is."
"He became a leader by changing his name from Zardari to Bhutto. Leaders are made from struggle and stand on an ideology."
Commenting on Bilawal's speech in the National Assembly, the prime minister said since the PPP chairman had not roamed around Pakistan, he was unaware of only a few people speaking English in the country. "The English spoken by Bilawal was not understood by people in the Assembly as well, especially the members of PML-N and JUI. They were so stressed after listening to it that the prayed in the wrong direction."
Prime Minister Khan addressed Bilawal bringing up U-turns saying that the PPP chairman would have known of leaders taking U-turns if he had struggled. "If you understand the meaning of U-turn you and your father would not be going through this now," the prime minister said in reference to the ongoing National Accountability Bureau (NAB) investigation into the money-laundering case.
"General Musharraf under US pressure gave NRO to your father. You got money in the Swiss Banks as part of the NRO….If at that time you would have taken a U-turn form corruption you would not be facing the courts."
'Most backward area of Pakistan'
Speaking on Tharparkar, the prime minister said this was the most backward area of the country.
"I came here because Tharparkar is the most backward area in Pakistan and the people are below the poverty line. In the last 3-4 years, almost 1,300 children have died due to malnutrition. I had decided to come here first when I stated rallies after the elections."
The prime minister announced that 112,000 health cards would be provided and in the future, all households of Thar would be provided with these cards.
The prime minister referred to the coal of Tharparkar as black gold and how this would change the destiny of the area and Pakistan. "We will try to give back the money earned from backward areas to the locals first."
"We will run solar plants in your area because this the best way to provide electricity to the people of Thar," he added.
The prime minister told the people of Thar that under the 18th amendment most of the funds were with the provinces, but he and the federal government would do as much as they can for the region.
Qureshi warns India
Foreign Minister Shah Mehmood Qureshi has warned India of a befitting response in case of any provocation, this is 'Naya Pakistan', not of 1971.
Addressing a public gathering in Chachro, an area of Sindh's drought-stricken district of Tharparkar, he said, "Pakistan desires for peace with its neighbours, but reserve the right to respond against any cross border aggression".
He said Pakistan returned Indian captured Pilot Abhinandhan as a peace gesture, but India sent dead body of Pakistani Prisoner Shakirullah in return.
Addressing Indian Prime Minister Narendra Modi, the FM said, the whole nation stand firm united with its armed forces for the defence of the homeland and this mammoth gathering in the border area is its proof.