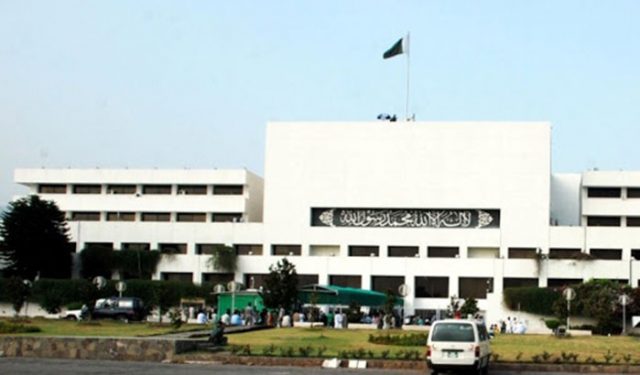 KARACHI: Chairman National Assembly's Standing Committee for Finance, Revenue & Economic Affairs Faiz Hasaan Thursday directed the chairman Securities and Exchange Commission of Pakistan (SECP) to discuss and resolve all the issues of brokerage in next 15 days.
During the meeting all the stakeholders were present in the NA Standing Committee for Finance, Revenue & Economic Affairs including the chief of SECP Policy Board Khalid Mirza.
PSX Stockbrokers Association raised its objections before the NA Standing Committee and apprised about the SECP's implementation of the New Brokers Regime (NBR) in haste without hearing point of view of the brokers association.
According to the PSX Stockbrokers Association, the Committee was kind enough to hear the point of views along with all the recommendations and suggestions.
The Committee has directed the SECP to ensure transparency while implementation of NBR and informed the committee about the cases of inside trading etc.
The Committee further directed the SECP to brief why it has taken the NBR's implementation in haste and issues notification. The SECP was also directed to brief the default cases of the brokerage houses and the action taken against them so far.
The Committee further asked the SECP regarding the contribution of Government Sector Organizations in the Stock Market and also asked the SECP to consult all the issues with the Association along with the Policy Board.
The next meeting of the NA standing committee will be held again after 15 days. The Committee will further discuss the issue in the presence of all the stakeholders and Relevant Persons likely to be affected thereof.
The Stock Market Reforms Committee, set up by the Securities and Exchange Commission of Pakistan (SECP) to prepare 'New Brokers Regime' (NBR), had said in a statement that SECP did not fully implement its recommendations and some of the quantitative and qualitative criteria have been diluted to accommodate some practical concerns of the market participants.
On February 3, SECP has notified amendments to Securities Brokers (Licensing and Operations) Regulations 2016 and introduced categorization of securities brokers with enhanced measures for investor protection, safe custody of their assets and improved governance standards in brokerage industry.
The new regime is expected to bridge regulatory compliance gaps while improve commercial viability of brokerage industry. It will help in implementing AML/FATF requirements which require brokers to have good protocols to curtail money laundering and terrorism financing risks, the SECP said in its notification.