PM hails TCB-1 Integrated Power project as game changer
2 min read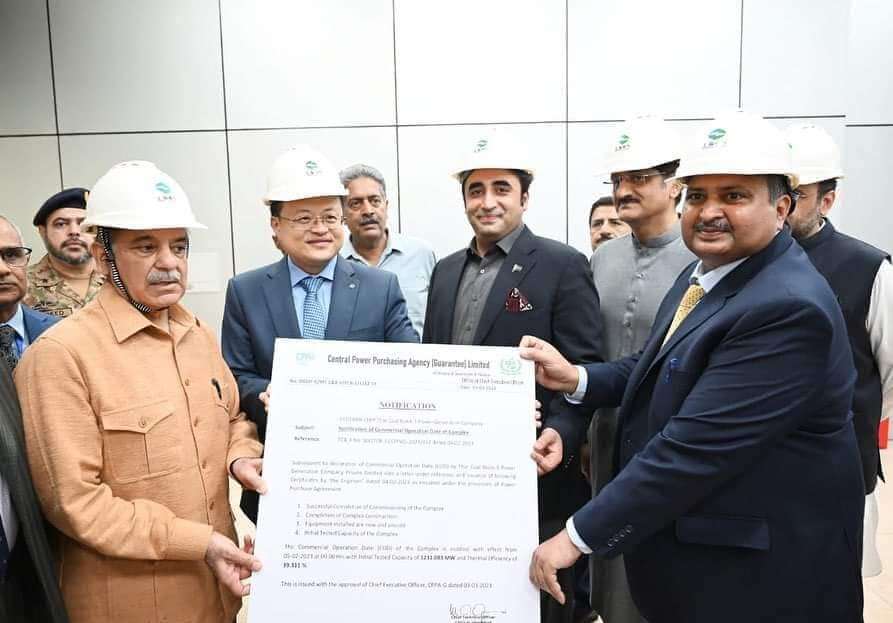 KARACHI: Prime Minister Shehbaz Sharif inaugurated Shanghai Electric's mega coal-fired power project in Thar Block-1.
According to top officials of Thar Coal Block-1 Power Generation Company (Pvt) Ltd, Prime Minister Sharif joined the celebrations to make the Commercial Operation Date (COD) for the 2X660MW Coal-Fired Power Plant Project in Thar Coal Block-1. The project successfully completed the 168-hours Reliability Operation Test and officially started Commercial Operation on February 5 this year.
Prime Minister Sharif hailed the project as a game changer and hoped that it will not just bring development to Thar but all of Pakistan.
Mr. Meng Donghai, CEO Thar Coal Block-1 Power Generation Company (PVT) Limited, thanked the prime minister and other dignitaries including Foreign Minister Bilawal Bhutto.
TCB-1 power plant is the first large-scale thermal power generation project in the world independently developed, constructed and operated by Shanghai Electric, and TCB-1 is a main energy project of the national "The Belt and Road Initiative"(BRI) and a key energy cooperation project of the "China-Pakistan Economic Corridor"(CPEC).
"Since the start of the TCB-1 power station project construction in 2019, the project team has worked together with all participating parties to overcome difficulties, such as the harsh natural environment of the Thar Desert, Covid-19 epidemic, complicated security situations, and insufficient capacity of power infrastructure. Finally, TCB-1 broke through numerous challenges and achieved this major milestone," Mr. Donghai said.
The smooth operation of the two units has an annual production capacity of 9 billion kWh, which can meet the electricity demand of nearly 4 million local households in Pakistan, effectively alleviate the local power shortage, and contribute to reducing energy imports and ensuring the strategic energy security of Pakistan.
The two units are developed under the lead of Shanghai Electric. The main equipment, such as boiler, turbine and generator, as well as the main auxiliary equipment, are manufactured by Shanghai Electric, which provides Chinese equipment with Chinese standard and Chinese technology to all across the world.
Mr. Donghai stressed that his company left no stone unturned in its bid to improve the lives of the local population.
"TCB-1 also stays true to the mission. While keeping pace with technological innovation, it is also committed to improving the lives of local people, protecting the local environment, and promoting economic development and employment for local people. During the construction period, the project provided more than 18,000 direct employment opportunities, created more than 135 million US dollars of tax revenue for the local area, and assumed more than 1.3 million US dollars of corporate social responsibility, creating a better future together with the local community."