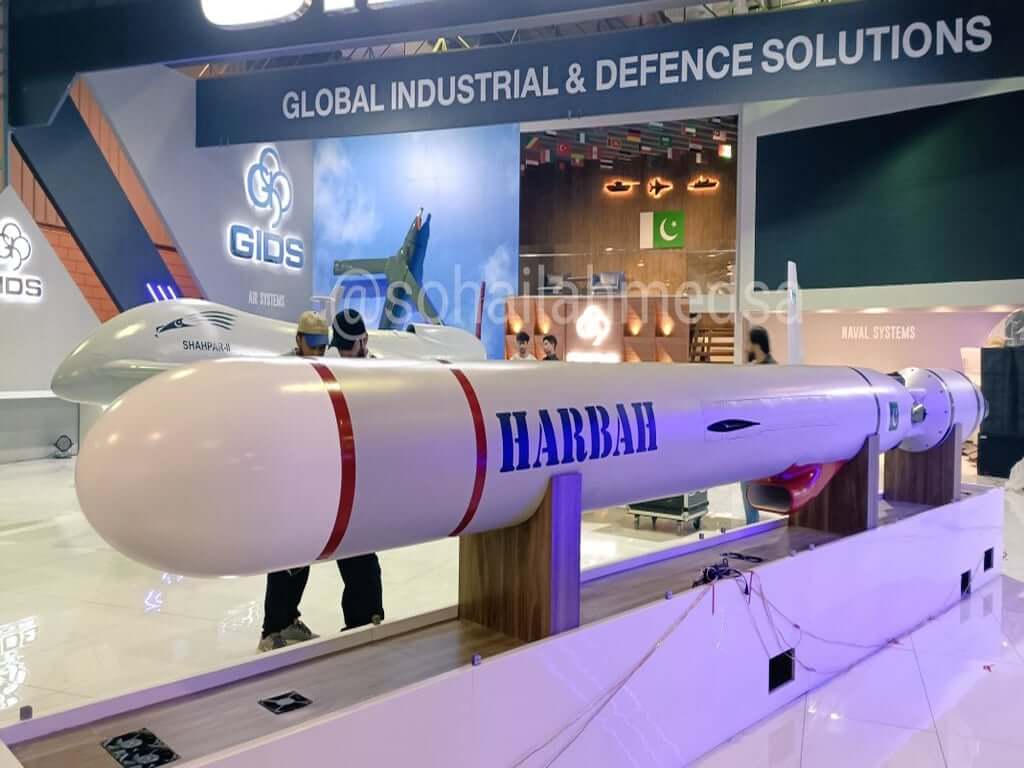 KARACHI: Pakistan's biggest exhibition IDEAS-2022 Tuesday started at Karachi Expo Centre Karachi. The first indigenous anti-ship cruise missile 'Harbah-NG' displayed first time in the IDEAS 2022.  In the exhibition, delegates from 51 countries reached Karachi to participate in the exhibition.
Foreign Minister Bilawal Bhutto Zardari inaugurated the IDEAS 2022 on November 15 (Tuesday). Earlier, it was being said that Prime Minister Shahbaz Sharif will inaugurate this exhibition.
GIDS, Pakistan's elite and largest state-owned defence conglomerate is going to launch its first indigenous anti-ship cruise missile in the exhibition for exports.
The Harbah-NG is all-weather, ship-launched subsonic anti-ship cruise missile with a range of 290 km that can target enemy's ships and land-based installations with the accuracy of less than 10m radius.
The missile has an exceptional modular design, facilitating variations to the warhead, guidance & range capabilities. It is offered in the both air and ground launched variants.
Defence Export Promotion Organization (DEPO) has arranged this exhibition, which brings together defence industries from across the globe to showcase their latest technological innovations.
According to sources, 285 delegations from 51 countries including military delegates and trade visitors are witnessing IDEAS-2022.
A briefing was given to national and international media during the curtain raiser of IDEAS-2022 at the Karachi Expo Centre on Saturday by officials of the DEPO, Ministry of Defence Production.
The first two-day have been earmarked for delegations, trade visitors and networking activities. The other highlights of the day include an international seminar on Artificial Intelligence (AI) in defence market and paradigm shift in military strategy and national security.
IDEAS 2022 has surpassed all previous milestones in terms of space, booking, exhibitors and delegates both domestic and foreign. Karachi Expo Centre has been booked to its full capacity with more than 500 exhibitors from Turkey, China, North America, South America, Europe, Asia and the Far East will be showcasing their products out of which, 60 percent are international and 40 percent are local.
Meanwhile, there are hundreds of high-level business-to-business (B2B) and business-to-government (B2G) meetings planned on the sidelines among foreign delegates, key government officials and participants of the exhibition.
Organisers said that the event would be restricted to relevant people only. It is not open to all citizens. On the occasion, DIGP Traffic, Ahmed Nawaz Cheema, also briefed the media about the traffic plan and alternative routes to facilitate the people of Karachi during the rush hours.
According to the United Nations COMTRADE database on international trade, Pakistan's total exports of arms and ammunition, parts and accessories was $3.82 million during 2021.