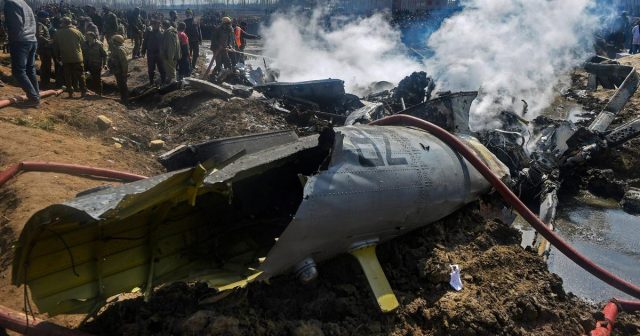 Indian Air Chief Rakesh Kumar Singh Bhadauria accepted his big mistake to shoot down its own Chopper in Indian Occupied Jammu and Kashmir after seven-months of the Pakistan's surprise attack. Pakistani Air Force was claiming from the first day that Indian Chopper was shot down by own Indian fighter plane.
According to Indian Media, the shooting down of a Mi-17 V5 helicopter by the Indian Air Force (IAF) on February 27 was a "big mistake", Air Chief Rakesh Kumar Singh Bhadauria said today." Six IAF personnel and a civilian were killed in the incident, which took place on a day Indian and Pakistani fighter planes exchanged fire along the Line of Control.
The Indian air Chief said, "action is being taken against two officers." "It was a big mistake on our part. We accept it," the Air Chief said, adding that a Court of inquiry had completed its sittings last week. "Our missile hit (the helicopter). This has been established. Administrative action and disciplinary action is being taken. Necessary steps are being taken so such incidents don't repeat," said Air Chief Marshal Bhadauria.
The Mi17 V5 chopper was shot down at Budgam near Srinagar a day after IAF fighters went into Pakistani territory and bombed a terror training facility in Balakot, the air chief said.
A court of inquiry found that the chopper was brought down by friendly fire from the Spyder air defence missile system at the Srinagar airbase.
The incident took place in the backdrop after the attack in Pulwama in which 40 soldiers were killed.
Now, one thing the Air Chief Rakesh Kumar Singh Bhadauria should also accept that Abhinandan Varthaman did not shot down any Pakistani fighter plane as he was arrested after destroying his fighter jet by the Pakistani Air Force during dogfight.