Indian govt deploys paramilitary forces in Delhi after farmers clash
2 min read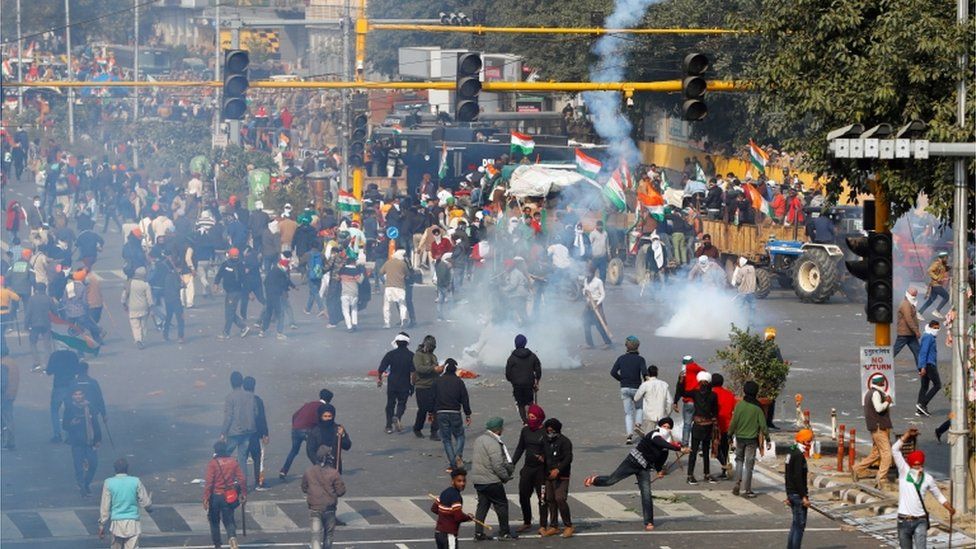 Some farmers stormed Delhi's historic Red Fort and occupied the ramparts until police drove them out.
The Indian government is deploying paramilitary reinforcements in the capital, Delhi, after a day of violent protests by striking farmers, BBC reports.
Thousands of farmers fought with police as a demonstration against controversial new agricultural laws descended into chaos.
One protester died and more than 80 police officers were injured.
Some farmers stormed Delhi's historic Red Fort and occupied the ramparts until police drove them out.
The violence overshadowed the city's annual Republic Day celebrations.
As night fell, the situation was reported to be tense with authorities cutting internet and phone connections in some of the worst-hit areas.
The government says the agricultural reforms will liberalise the sector, but farmers say they will be poorer as a result.
Tens of thousands of them have been striking on the outskirts of Delhi since November, demanding that the laws be repealed. Last week they rejected a government offer to put the laws on hold.
How did the violence unfold?
The government had opposed the planned rally by farmers but police allowed it on the condition that it would not interrupt the Republic Day parade in central Delhi.
Republic Day is a national holiday that marks the anniversary of India officially adopting its constitution on 26 January 1950.
Farmers were given specific routes for the tractor rally, which would largely be confined to the outskirts.
But shortly after the parade came to a close, convoys of tractors broke through police barricades and converged on the city centre. One group of protesters burst through security at the historic Red Fort where they clambered on to the walls and domes of the fortress, even hoisting flags alongside the national flag.
By Tuesday afternoon, police said they had removed protesters from the complex.
Some of the most violent clashes took place near the ITO metro station junction – on the route to central Delhi. Footage showed farmers attacking police with sticks and metal bars while officers used tear gas and batons.