KARACHI: AKD Securities, who is the manager to the offer by ARY Communications Ltd, Thursday announced that they are going to publish a public announcement on May 7 (Friday) in English and Urdu Newspapers regarding intention to acquire more than 51% shares of the WorldCall Telecom Ltd (WTL).
 According to the notice, "AKD Securities Limited have been appointed as the Manager to the Offer by ARY Communications Limited and ARY Digital FZ LLC (the "Acquirer"), in accordance with the provisions of the Act and the Regulations."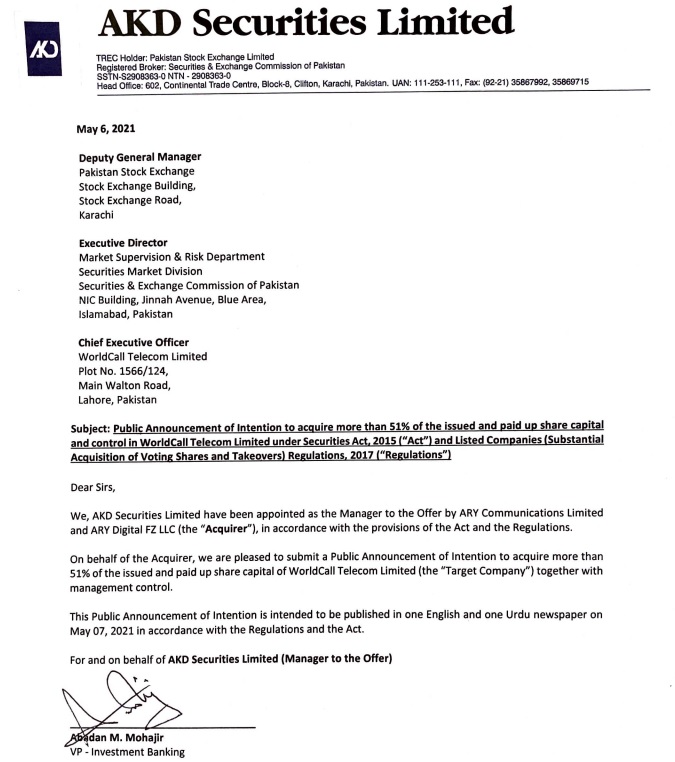 "On behalf of the Acquirer, we are pleased to submit a Public Announcement of Intention to acquire more than 51% of the issued and paid up share capital of World Call Telecom Limited (the "Target Company") together with management control. "This Public Announcement of Intention is intended to be published in one English and one Urdu newspaper on May 07, 2021 in accordance with the Regulations and the Act," the notice of AKD securities said.
Earlier, the Securities and Exchange Companies of Pakistan (SECP) has extended 90 days more to the ARY Group to acquire 51% share of WTL. The extension was given on the request of the AKD Securities.
On August 7, 2020, the AKD Securities had said that the ARY Group has appointed it as a lead manager to acquire more than 51% of the issued and paid up share capital and control in (WTL or the target company).