LAHORE: Honda Atlas Cars Pakistan Limited on Wednesday launched an all-new 10th generation Honda Accord 2019 in Pakistan.
The car was unveiled for the first time in the country at the launch ceremony which was held at Honda Atlas Cars factory in Manga Mandi. It was globally launched back in July 2017 where its production and sales started the same year.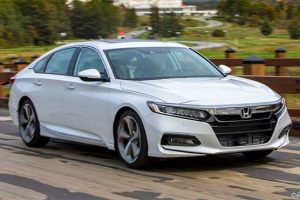 The all-new Honda Accord 2019 comes with a 1.5L DOHC In-line 4 cylinder engine with 16 valves. It has a VTEC Turbo engine of 1498 cc capacity. With the compression ratio of 10:3:1, the all-new Accord has a bore and stroke of (73×89.5) mm. The fuel supply system used in the powerful Accord is direct injection PGM-FI.
Moreover, the company has also provided the minimum recommendation of fuel type as Unleaded RON 91 to be used in the vehicle. Another feature included in this car is the drive by wire throttle (DBW). The 1.5L VTEC Turbo engine is mated to a continuous variable transmission (CVT) with Earths Dream Technology.
This technology enhances the driving experience as well as improves the fuel efficiency of the car at the same time. Paddle shifters are also provided by the auto manufacturer which allows the driver to switch gears without removing hands from the steering wheel.
Honda Accord 2019 is considered to possess a powerful engine that can produce a maximum power of 134 kW at 5600 rpm and a maximum torque of 233 Nm at 5000 rpm.
Honda Accord is equipped with the advanced suspension and braking system to improve the comfort and safety of the passengers. It is equipped with MacPherson strut at the front and multi-link suspension at the rear side of the vehicle.