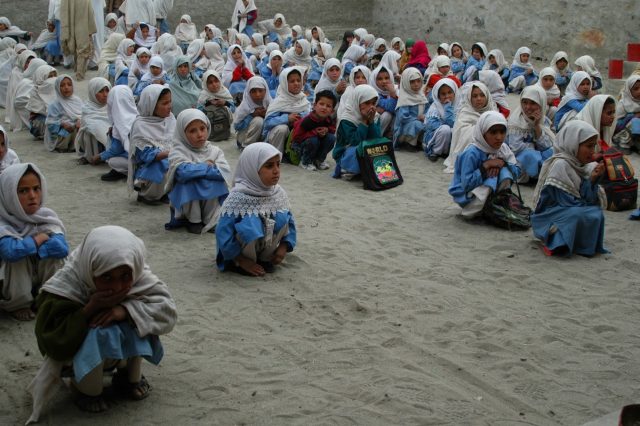 KARACHI: A large number of girls in Pakistan are still missing out on the education they need, revealed a Human Rights Watch report released today.
The 111-page report, titled "'Shall I Feed My Daughter, or Educate Her?': Barriers to Girls' Education in Pakistan," concludes that nearly 22.5 million children are out of school, of which majority are girls. Thirty-two percent of primary school age girls are out of school in Pakistan, compared with 21 percent of boys.
By 9th grade, only 13 percent of girls are still in school.
"The Pakistan government's failure to educate children is having a devastating impact on millions of girls," Liesl Gerntholtz, the women's rights director at Human Rights Watch, stated in the report. "Many of the girls we interviewed are desperate to study, but instead are growing up without the education that would help them have options for their future."
The New York-based HRW interviewed 209 people — most of them with girls who never attended school — in all four of the country's provinces: Balochistan, Khyber Pakhtunkhwa, Punjab, and Sindh.
One reason girls stay out of educational institutes is the government's under-investment in schools, lack of schools, prohibitive school fees and related costs, corporal punishment, and a failure to enforce compulsory education. In addition, girls are also prevented from attending school by external factors including child labour, gender discrimination, child marriage, sexual harassment, insecurity, and attacks on education.
The Pakistan government's investment in education is much below than that recommended by international standards. Up until 2017, Pakistan was spending less than 2.8 per cent of its gross domestic product on education – far below the recommended 4 to 6 percent.
The ruling Pakistan Tehreek-e-Insaf (PTI)'s manifesto promises major reforms to the education system, including for girls' education. "We will prioritise establishment and upgradation of girls' schools and provide stipends to girls and women for continuing their education," the manifesto says.
"The government recognises that education reform is desperately needed and promises to make this a priority, especially for girls – a positive step," Gerntholtz said. "We hope that our findings will help the government to diagnose the problems and identify solutions that will give every Pakistani girl a bright future."