In 2013, the Foundation had also run an Adult Literacy programme for the community women, with the help of Literate Pakistan 'Jugnu Sabaq'
Taking a major initiative to educate poor children in the coastal areas of Karachi, ICI Pakistan Foundation is supporting the only Govt Boys & Girls School in Kakapir Village situated at Manora Road near Younusabad, Sandspit Karachi.  The Kakapir village belongs to over 2,000 fishermen in Sandspit area.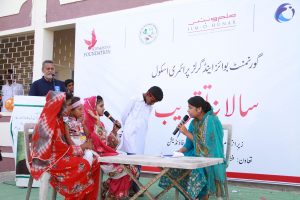 In 2010, the dilapidated school building was adopted by a community NGO, namely the Fisherfolk Development Organization (FDO). With the support of ICI Pakistan Foundation, the entire school was renovated in 2010-11 and windows, furniture and other expenses were incurred to improve its condition.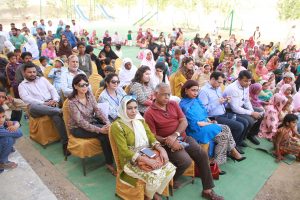 At the time of adoption, only one government teacher was posted at the school. But, now a new highly qualified (MA, B.Ed) lady Principal has been appointed by the Sindh government and she can be credited with making commendable improvement to the institution.
"Currently, ten teachers and two support staff are working at the school," an ICI Pakistan Ltd official informed. ICI Pakistan Foundation (ICIPF) is providing funds for their salaries and other school expenses. The ICIPF arranges annual function at the school every year, in which a number of students, their parents and community women actively participate.
School is ready for Higher Education:
At the time of adopting this school, only 25-30 students were enrolled, but currently nearly 200 students are at the school from Nursery to Class VIII. An encouraging fact is that 70 per cent of the students are girls.
According to officials of the school, 8th grade has now been started at the school from this year. A total of 25 students are enrolled in the lower secondary level. In 2016, 6th grade classes for community girls were started at the school.
Because of the high standard of education, nearly 30 students joined this school from a nearby Island 'Shampspir'. Unfortunately, qualified teachers are not available at the newly built government school in that village.
Due to space constraint, the ICIPF made a temporary shed to accommodate 70–80 students with the help of community people and volunteers from ICI Pakistan Limited.
Literate Pakistan 'Jugnu Sabaq' set up for Nani, Dadi:
The Foundation has also run Adult' Literacy programme for the community in 2013 with the help of Literate Pakistan 'Jugnu Sabaq'. A total of 30 students were enrolled in this programme and had passed their basic literacy level exam. The 'Adult Literacy programme students' age bracket was from 14 years to 55 years.
"Amazing feature of this class was that 'Dadi' and Nani' were the students of literacy class," an official claimed. "16 students of the adults Literacy showed their interest to continue their education and entered in advanced level of 'Jugnu Sabaq' i.e. Tez Tareen. This part consisted of a summarized primary course of 12 books," he added.
The basic objective of this programme was to educate the local women and equip them with skills of cooking, stitching, fashion designing, beautician course and other Indoor professions, to earn a decent livelihood.
In 2010, ICI Pakistan Ltd made 'Seafood Kitchen' for cooking classes in the community. The objective was to promote indigenous seafood recipes as well as to create income generation opportunities for the community women. Adult literacy classes were also organized in the Seafood Kitchen. It was run very successfully for a year and now Quran classes are being held for the community children.
In 2008, the ICIPF also funded reinstallation of water pipe line for the community, it was learnt.