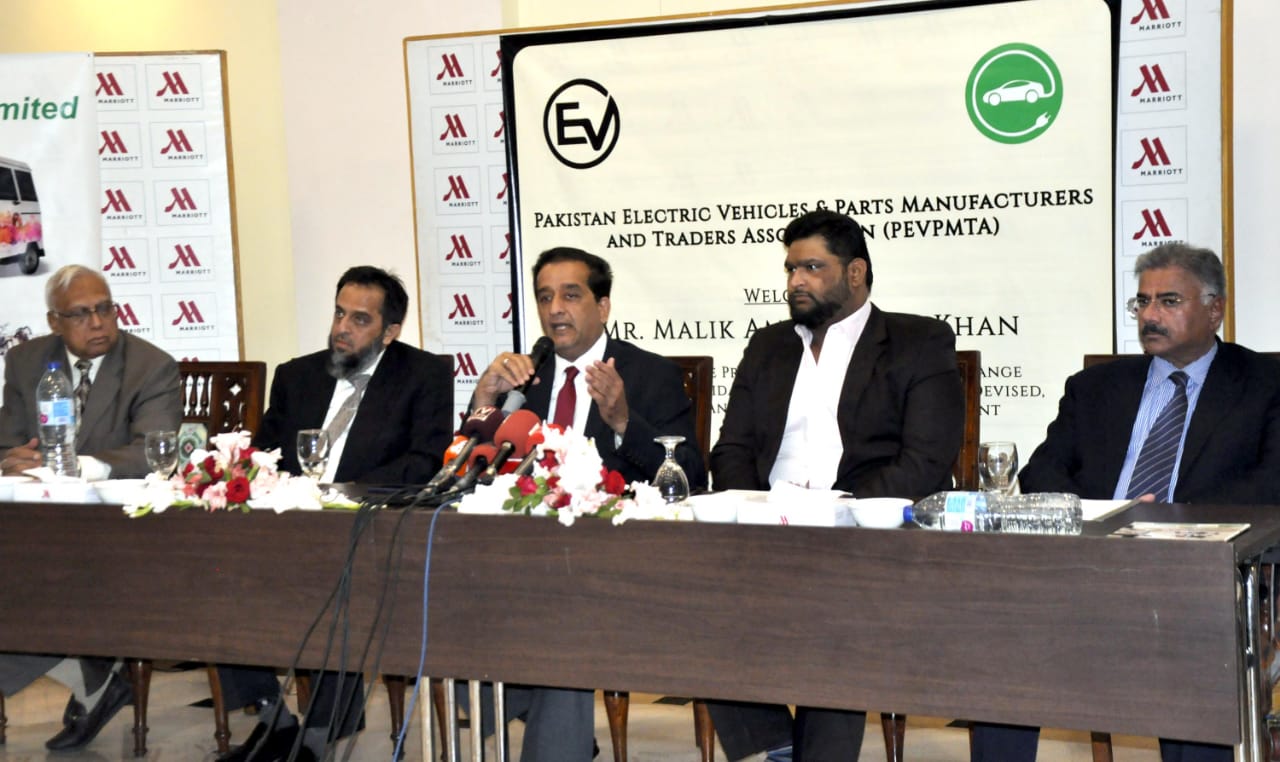 Pakistan is one of the worst affected by climate change and Pakistan must respond to it to the best of its capacity and reduce carbon emission: Malik Amin Aslam
KARACHI: Prime Minister's Advisor on Climate Change Malik Amin Aslam said that electric vehicles have started penetrating all over the world and Pakistan must also embrace the technological shift in the country as well to reduce carbon emissions and subsequently reduce aggravating climate change here in Karachi on Thursday.
Ministry of Climate Change took the lead in first drafting Pakistan's Electric Vehicle Policy and then having it approved by the cabinet after few changes. The new EV players are waiting for government SROs to be issued so that the process of introducing EV could start in the country.
Pakistan Electric Vehicles & Parts Manufacturers and Traders Association (PEVMA) organized its first interaction with media in Karachi at Marriot Hotel. Federal Minister Malik Amin Aslam from Ministry of Climate Change was the chief guest on the occasion.
PEVMA Chairman Ehtesham Ul Haq was also present on the occasion.
Malik Amin Aslam on the occasion said that EV is the future of Pakistan and it is revolutionary, which will be a game changer for Pakistan saving the oil import bill.
"It will help common motorists and passengers, who use motorcycle, cars, vans and above all the biggest would beneficiary would bus and coach users as electrification would help reduce bus and coach fares," he said.
The media was told that it was high time that Pakistan inducts and enforces EV transportation in Pakistan, as the country was purchasing fuel of around $14 billion (In year fiscal year 2019), thus burning the valuable foreign exchange earned with such a difficulty in the competitive contemporary world.
PEVMA officials lauded the timely formulation and induction of EV in Pakistan by the Government of Pakistan and congratulate the Ministry of Climate Change (MoCC) for the great job and task completed in a short period of time.
"In order to help the government in induction of the EV in the transportation system of the country, it was resolved to formulate a body for the purpose to guide the relevant ministry and authorities in implementation of the policy in its true spirit and style," PEVMA Vice Chairman Mohammad Ayaz said.
"The common man would benefits from the advantages of EV Vehicles which would enhance the Socio Economic environment through substantial saving on purchase of fuel & maintenance alone," he added.
"We can have a healthy environment in view of zero tail omission and noise pollution," he further said.
"Though we were late in coming up with an EV Policy, however with the efforts of the Advisor to the Prime Minister on Climate Change, special efforts and interest of Malik Amin Aslam Khan, it was possible to develop and finalize the EV Policy, in spite of tremendous pressure and negative propaganda, against EV, through media and other forums, by the vested interest and competitive lobby," PEVMA General Secretary Shaukat Qureshi said.
"We understand the logic, as our auto sector has been totally dominated by the Japanese brands. While the Japanese auto segment has yet to come up with a comprehensive response towards EV and its technology. Toyota, the world auto giant, has for the first time signed agreement on November 7, 2019, to develop Electric Vehicles with BYD, the world largest electric vehicles manufacturer, with 44 plants around the globe employing 250,000 personals, with turnover of 250 Billion dollars," he added.
BYD, has completely transformed the transportation system of many countries, and is enjoying 100 % market share in USA, Europe etc. in terms of Electric Vehicles.
"Scenario will definitely change in Pakistan as well, with the Japanese companies roll out their models by 2024.The question arises do we have to wait till then to adopt EV in Pakistan?" Qureshi questioned.
Electric mobility is expanding at a rapid pace. In 2018, the global electric car fleet exceeded 6.8 million, doubling the number of new electric car sales, led by China & Europe the United States. Norway is the global leader in terms of electric car market share.
Policies play a critical role. Leading countries in electric mobility such as fuel economy standards coupled with incentives for zero and low-emissions vehicles.
Technology advances are delivering substantial cost cuts.
Battery manufacturing is also undergoing important transitions, including major investments to expand production.
In 2030, in the New Policies Scenario, which includes the impact of announced policy ambitions, global electric car sales would reach 23 million and the stock exceeds 130 million vehicles (excluding two/three-wheelers).
Market share for electric vehicles (EVs) by 2030 (excluding two/three-wheelers), EV sales would reach 43 million and the stock is more than 250 million.
Projected EV stock in the New Policies Scenario would cut demand for oil products by 127 million tonnes of oil equivalent (Mtoe) (about 2.5 million barrels per day [mb/d]) in 2030.
The global stock of electric two-wheelers was 260 million by the end of 2018 and there was 460 000 electric buses. Almost half of all vehicles to be sold by 2030 in Europe would be EVs.
The projected share of EVs in 2030 in Japan is 37%, over 30% in Canada and the United States, 29% in India, and 22% in aggregate of all other countries. Almost doubling the unprecedented amount of new registrations in 2017.