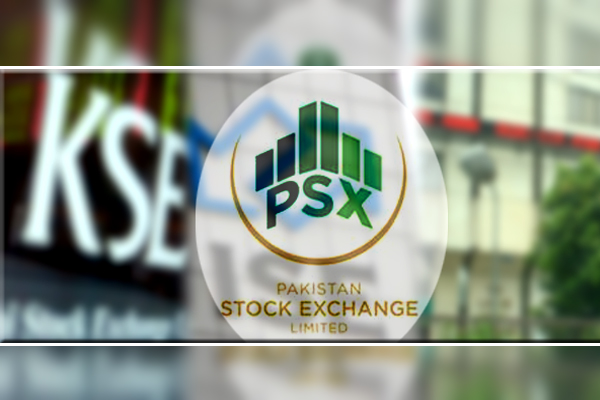 KARACHI: Chief Executive Officer (CEO), Pakistan Stock Exchange (PSX), Richard Morin on Saturday said he saw tremendous opportunities for investors, where they could buy PSX equities, specially KSE-100 Index stocks, at a very attractive price.
Investors can buy equities at a price-earnings ratio of 7.6 times today, he said this while talking to APP here.
In comparison, the regional players are trading at 13 to 14 times of their earnings. That was a very important number. When Pakistanis buy shares of listed companies, they are in fact buying part of their future profits, he added. Pakistani investors only pay Rs 7.6 per rupee of annual profit earned by these companies whereas investors elsewhere in the region are paying Rs 14 per rupee of annual profit.
The last time Pakistan equities were so attractive, in 2012, the annual returns for the next five years were over 20 percent at PSX. So Pakistani equities were very attractive from that point of view right now, Richard Morin said.
He said the stocks listed at PSX were equally attractive from dividend yield point of view as well. By buying KSE-100 Index stocks, the investors would get an annual dividend of 6.9 percent from these companies; that compares fairly well with the short term interest rate in Pakistan.
Along with earning 6.9 percent dividend, he said, an investor would also participate in the growth of these companies and of Pakistan's economy.
He said that over the years, KSE-100 Index stocks had increased their sales by an average of 10 percent a year and the profit had increased at an average of 12% a year, all of which ultimately accrues to investors/shareholders.
"I would tell Pakistanis now is a very good time to buy PSX shares. If you read newspapers, it seems people will find good reasons not to buy PSX shares at this level. I think they are mistaken", he said, recommending to buy shares of PSX listed companies and keep them in their portfolios for the long term.
If the buying of shares is complicated for unsophisticated investors, they should buy mutual funds, he said. There are a number of very solid mutual funds companies in Pakistan. The investors must diversify their portfolios and should keep their investments for the long term, Morin added.
Responding to a question about the negative performance of Pakistan's capital market, Richard said the global economic and political developments had created ripples in the stock markets of the world. The developing economies, he added were the worst affected.
The capital markets around the world have been going through a period of turbulence; which has specially affected emerging markets, he said.
The emerging markets index lost about 14% this year he said. Similarly China's market suffered a set-back of some 25% like several other markets which faced turbulence of more or less same magnitude.
He said the emerging market currencies had also been affected. Some countries had devalued their currencies by over 90 percent. Argentina's currency was devalued by 90 percent, India's currency by 15 percent and Pakistan's currency by up to 19 percent. It was not possible for Pakistan to escape this scenario of devaluation.
Morin said that the global emerging markets were not doing well this year. It needs to be watched what was going on around the world.
All the financial markets, including emerging markets like Pakistan, go through cycles and they are affected by global events such as United States' increasing its interest rates, the US has strained relations with China and much of the rest of the world and oil price was also going up.
These three factors had been generally negative to the emerging markets. As unpleasant as it may be, it was not something that long term investors should be too worried about. All of this must be viewed in a global perspective.
Pakistan Stock Exchange's Chief Executive Officer Richard Morin said "We do not know if the market will go up tomorrow or next month, but we know that you are going to get excellent returns over the long run.
Pakistanis should resist temptation of thinking short term. You need to think long term for investments in stocks, he said. "If investors have faith in the economy and in the country, they must invest in shares of these listed companies. They are incredibly attractive buys at these levels."
Richard Morin said that transformation at PSX had already started and would continue for the next three years. Besides transformation, the objective was to bring more Pakistanis to invest in our market. This was a fundamental issue to be dealt with. When PSX succeeds in bringing new investors, it would transform the capital market of Pakistan and contribute to its economic success.
He cited the example of Sri Lanka having a population of 20 million with 700,000 active investors. Pakistan had around 250,000 stock market investors. Bangladesh, which had a smaller population as compared to Pakistan, has two and a half million investors in their stock market.
Vietnam having a population of ninety million had six million retail investors in the capital market. India had 25 million stock market investors.
These numbers gave the measure of two things: the challenge faced in developing the capital market in Pakistan and also the great potential we had to further develop this market.
There were many reasons for lack of investors' interest in the stock market but one of the fundamental reasons was the size of the undocumented economy in Pakistan, which was seventy percent of the total economy.
For more investment in stock markets, Pakistan would have to bring capital into the documented economy. This was a big challenge but it is not possible to develop Pakistan's capital market without successfully dealing with this challenge. If Pakistan succeeds in increasing the relative size of the documented economy, it would have a direct impact on our capital market and Stock Exchange, he added.
About restructuring of Pakistan Stock Exchange, Richard Morin said that when he joined PSX as its MD in January this year, the first priority for him was to reorganize it. It was to refocus its business development mandate. The transformation process is almost complete now. A Head of Marketing & Business Development had also been hired, who would be leading dedicated teams to get more investors and more companies listed at the Exchange. These specialized teams would be active in Karachi, Islamabad and Lahore to bring in new investors to the Stock Exchange.
Also, PSX has hired Head of Products Development and Research so that more investors are attracted through new products developed. There is also potential to revamp existing PSX products like futures and to activate and develop the fixed income market.
A new Head of Listing has been appointed, through internal promotion, to revamp the rules and procedures of listing and put these in line with internationally accepted listing practices.
PSX is going to recruit more capital market experts like Head of Trading and Operations, and Head of Human Resources Development to boost the capacity of this Exchange.
Richard Morin said that since 2012, the Pakistani capital market had seen major developments through demutualization and integration of its three stock exchanges — Karachi, Lahore and Islamabad, and by bringing in China as strategic investors.
Referring to the core objectives of Pakistan Stock Exchange, he said PSX management had approved a three-year strategic business development plan.
The plan included core objectives of increasing the number of investors in the exchange, increasing the number of listed companies, and improving liquidity in PSX products for the benefit of investors and stakeholders of the Exchange.
Richard Morin said, when more liquidity was brought, it would benefit listing companies, investors and brokers as they could generate more revenue. PSX could only succeed when brokerage firms succeeded. PSX was a partner in developing our capital market so it wanted a vibrant and healthy brokerage community. Liquidity would help brokers to be more profitable and re-invest in development of the market.
On this front, he said, an important initiative was to implement a market maker system. In the next few weeks, PSX would be re-writing market maker rules. After approval by PSX board of directors and by Securities and Exchange Company of Pakistan, these revised rules would be implemented.
Hence, brokers would be invited to be market makers. The brokers would have an obligation to ensure minimum level of liquidity for listed securities in return for incentives provided by PSX. Market makers would also be introduced in the futures market to improve liquidity.
On the products side, PSX had planned to bring Exchange Traded Funds (ETFs) to Pakistan, said Morin. Listing in exchange-traded fund (ETF) which is a marketable security that tracks an index- was a complex undertaking. It has been the focus of attention in Pakistan for last many years.
PSX needed AMCs, brokers, market makers and coordination by the Exchange, along with close coordination with SECP to make the launching and trading of ETFs a success, Morin added.
The MD of PSX said Pakistan, was very close to launching ETFs. Soon, PSX would be able to publish a timetable for listing ETFs.
He appreciated the efforts of SECP in playing an encouraging and receptive role to PSX and providing ideas for capital market development.
On the debt security side, there were tremendous opportunities for PSX, stock brokers and investors. Under the leadership of the newly hired Head of Product Development, PSX was working on a plan to develop the debt market, Morin added.
PSX was looking to introduce new products like index options and stock options, but before this, the Exchange must implement its next generation trading system, Morin said. Currently, two international trading systems were under discussion and one of these would be implemented at Pakistan Stock Exchange. This new system supports all existing products of PSX — ready and futures market and debt securities – as well as new products like stock and index options, Morin added.
The MD PSX said that on the technology side, a very important initiative was to streamline the account opening process. This was an important part of our effort to increase the number of investors, he said.
Morin added that PSX, NCCPL and CDC have a team working on this initiative. There would be an online account opening process aimed at eliminating the paperwork involved. Instead of many signatures, an investor would need a single online session and provide a single signature for the account opening process. This would encourage brokers to bring in more investors to the Exchange.
This would be a very important development in the capital market, the MD said. Again, strong collaboration would be needed with sector participants like NCCPL and CDC as well as government entities like SECP and NADRA to execute this project successfully, he added.
When asked about steps taken for Investor Protection, Richard Morin said that it was an important area under focus at PSX at present. After integration of the three Exchanges and introduction of new regulations, the investors enjoy significantly better protection now as compared to 3 years ago. This has been achieved in close collaboration with SECP.
He said PSX was working on reforms in Investor Protection Fund which would further improve protection of retail investors. These reforms would remove the limit that the fund can disburse for a broker forfeiture and replace it with a limit per client. This will allow the investor to know exactly the extent of his protection with a particular broker. These reforms will also enable the funds to be disbursed to aggrieved investors very quickly.
Pakistani investors would enjoy the same level of protection as available to investors in global capital markets, including Canada, the US and India, Morin said.
Finally, he said, another important factor was taxes and regulations. In Pakistan, there was need for a conducive and encouraging tax environment as it would not only help to increase investments but also promote savings — the more the savings, the more would be the investments.
"I believe a good tax regime has potential to bring some of the undocumented capital to the documented economy. Once it is there, it would be invested in the stock market," he said.
Richard Morin appreciated that the recent measures adopted by the government are in the right direction. "We must level the playing field between real estate and stock investments," he said.
At the end, in his message Richard Morin said that he would encourage every Pakistani to step up and take ownership of their capital market and invest in the companies listed on the Exchange: "Invest in PSX, invest in Pakistan."