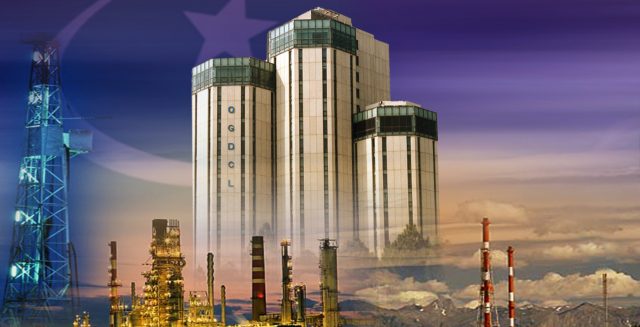 KARACHI: The Privatization Commission (PC) Wednesday intimated Pakistan Stock Exchange (PSX) and its stakeholders that it has appointed a Financial Advisor (FA) for the divestment up to 7 per cent shares of Oil and Gas Development Company Limited (OGDCL).
The PC announced it through a letter to PSX MD, in which it intimated regarding the process of OGDCL privatization and divestment of up to 7 per cent its shares.
In the letter it further claimed, "FA will carry out comprehensive due diligence and later suggest on suitable transaction structure for consideration of the government.
The letter further claimed that there is absolutely no consideration to offer OGDCL shares either at a discount or on an historical average. Any rumours pertaining to transaction size or discounted divestment price are strongly refuted.
It further said that up to 7 per cent OGDCL shares will be offered at a value that is best reflective of the fundamentals of OGDCL including its strong financials.
The PC did not disclose the name of the financial advisor in the letter sent to the Managing Director PSX not it mention about transaction structure, size and divestment strategy.
The sources in the brokerage houses said the Commission is planning to sell OGDCL shares at much lower price compared to its current price. The brokers and investors of the PSX have shown their concern over the government's policies regarding the privatization process of OGDCL.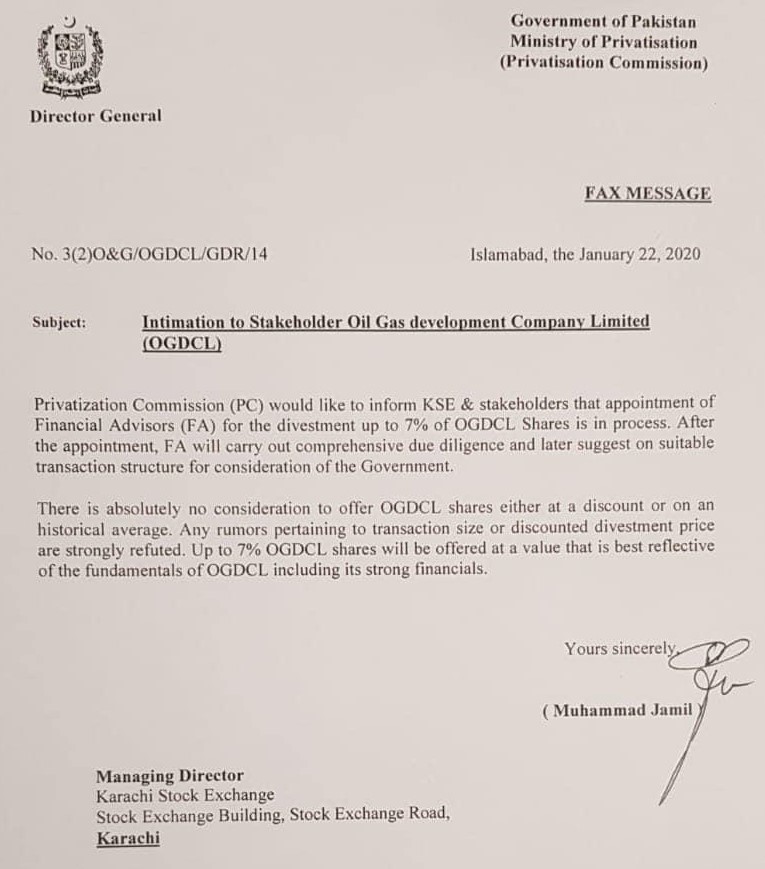 According to Arif Habib Securities OGDC was going lower circuit and then bouncing back strongly to close at day's rate and above market average. Similar activity was observed in PPL, which although didn't touch lower circuit, but faced likewise selling pressure.
The news that concerned investors was likely selection of Financial Advisors for divestment of OGDC's shares amidst expectation that Shares will be offered at a discount to market price. By the end of session, Secretary Privatization Commission, Rizwan Malik clarified that government intends to divest shares at premium that caused stock price to go up further in MoC.
Capital from selling of E&P stocks apparently moved to cement sector that also caused a spike in cement sector stocks, especially LUCK that went close to upper circuit. E&P sector led the volumes with 23.6 million shares, followed by Technology (19.5 million) and Cement (19.2 million). Among scrips, OGDC topped with 19.2 million shares, followed by MLCF (9 million) and UNITY (8.5 million).
The Index closed at 42,561pts as against 42,626pts showing a decline of 65 points (-0.2% DoD). Sectors contributing to the performance include Cement (+58 points), Fertilizer (+33 points), Banks (+11 points), E&P (-71 points), O&GMCs (-36 points), Tobacco (-22 points), Inv Banks (-18 points).
Volumes maintained the level at 178.0 million shares (+0% DoD). Average traded value increased by 36 per cent to reach $60.1 million as against $44.1 million.
Stocks that contributed significantly to the volumes include OGDC, MLCF, UNITY, TRG and MERIT, which formed 30 per cent of total volumes.