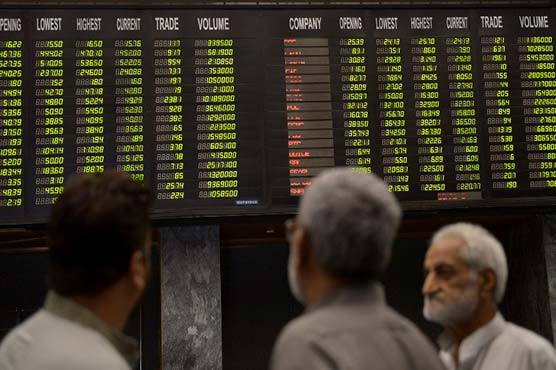 KARACHI: Stocks rebounded on Thursday with the KSE-100 index recouping 1,165.51 points (2.74 per cent) from the losses of 547 points suffered a day earlier.
At the closing of the day, the index settled in the green at 42,523.07, as the risk of an all-out war breaking out between the United States and Iran dissipated.
The total volume of shares traded stood at 249.5 million, a decrease of 12.2 per cent compared to yesterday's 280 million shares. But the value of shares traded on both days was more or less the same at Rs 11.7 billion.
Most of the stocks recovered recovering over 1,165.51 points to well above 42,523 points during trade on Thursday.
The de-escalation in geo-political tension in the oil rich Middle Eastern region helped the market resumed the strong rally.
"The market saw the rally following US President Donald Trump's speech hinting no major retaliation in response to Iranian missile attacks on US military bases in Iraq," Topline Securities Director Research S Arif Zafar said.
The market had already recovered to 16-month high above 42,400 points before US killed a top Iranian military commander in an attack in Iraq on Friday. The situation dragged the market down.
The analyst anticipated an extended rally at Pakistan Stock Exchange (PSX) in days and weeks to come. "From here onwards, we see the first resistance at around 47,000 points in case no major negative events break out," Zafar said. Rich individual investors are the major buyers at PSX these days.
Foreigners are yet not net buyers, but there is a significant drop in sales by them at PSX, he said.
"They may become net buyers in the weeks and months to come," he said. The rally is seen on across the board buying namely in cement, oil, bank and fertilizer stocks.